Twilio has been utilized by millions of developers across the globe to unleash the power of communication and use it to better every aspect of human experience. With Twilio, communication channels such as voice, text, chat, video and email have been democratized by virtualizing the world's communications infrastructure through APIs that are simple enough to be used by any developer while being robust enough to control the world's most demanding applications. Twilio is a privately held company headquartered in San Francisco, California. Increasing the inclusion of media platforms in every software developer's toolset, Twilio is empowering innovators throughout every sector, from rising leaders to the world's biggest corporations, in their efforts to reimagine how businesses interact with their consumers.
Twilio on Map
Has 26 office locations across 16 countries, road map, satellite view and street view of Twilio headquarters shows where the location is placed.

| | Title | Category | Address | Description | Link | Address | Phone Number |
| --- | --- | --- | --- | --- | --- | --- | --- |
---
General Information
| | |
| --- | --- |
| HQ Address: | San Francisco, California, USA |
| Zip Code: | 94105 |
| Industry: | Communications |
| Products: | Voice, SMS, MMS, SIP Trunking, WebRTC, 2FA, Call Center |
| Founded: | 2008 |
| Website: | twilio.com |
Where is Twilio Inc. headquarters located?
Twilio Inc.'s headquarters is located at 101 Spear Street, First Floor, San Francisco, California, 94105, United States.
Phone number +14153902337 or choose the talk to support link in the top navigation bar to view the alternatives accessible to you based on your plan's specifications. Instead, customers may submit a ticket number from the Submit a Ticket page in Console and seek help.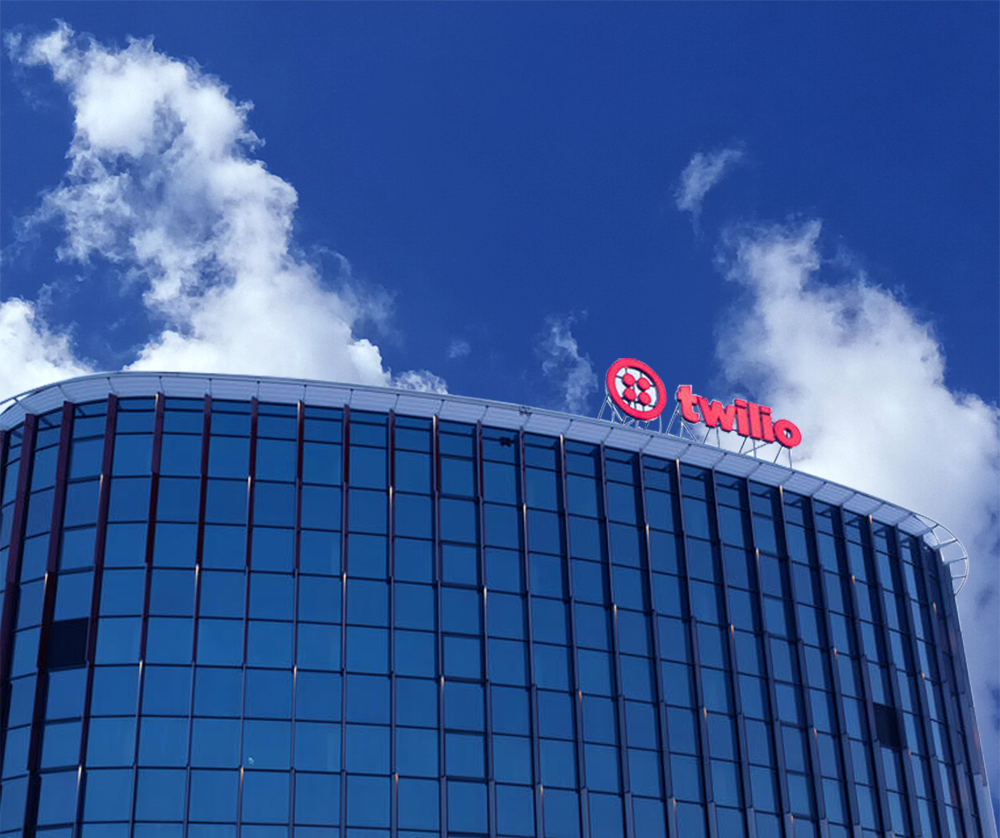 What does Twilio Inc. do?
Twilio Inc. is a cloud communications platform as a service (CPaaS) startup established in San Francisco, California, that provides cloud communications services. The web service APIs provided by Twilio enable software developers to programmatically make and receive phone calls, send and receive text messages, and conduct other communication operations via the use of a variety of web-based tools.
What are the main services provided by Twilio Inc.?
Users of Twilio may make phone calls, send text messages, purchase phone numbers, and generally connect with the company's goods and services in a variety of ways.
Company History
Twilio was started in 2008 by Jeff Lawson, Evan Cooke, and John Wolthuis, and was first situated in both Seattle and San Francisco, Washington. The company is now headquartered in Seattle.As a consequence of a prank played on TechCrunch founder and Editor Michael Arrington by investor Dave McClure, Twilio received its first significant press attention in November 2008. The application, designed by Jeff Lawson to rickroll individuals, was the source of the company's first substantial press coverage. Twilio Voice, an API for making and receiving phone conversations that is totally hosted in the cloud, was introduced a few days later, on November 20, 2008, by the firm. Earlier this year, Twilio's text messaging API was made available to the public, and SMS shortcodes were made available in public beta in July 2011.
Venture capital financing for Twilio's expansion totaled around $103 million. Founders Fund, Mitch Kapor, Dave McClure, David G. Cohen, Chris Sacca, Manu Kumar, and Jeff Fluhr invested in Twilio's first round of seed funding in March 2009 for an undisclosed amount. Other investors included Mitch Kapor, The Founders Fund, Dave McClure, David G. Cohen, Chris Sacca, Manu Kumar, from K9 Ventures, and Jeff Fluhr. Twilio's initial A round of fundraising, which raised $3.7 million from Union Square Ventures, and its second B round of funding, which raised $12 million from Bessemer Venture Partners, were both led by Union Square Ventures. Twilio raised $17 million in funding in a Series C round led by Bessemer Venture Partners and Union Square Ventures in December of last year. Twilio secured an additional $70 million in funding from Redpoint Ventures, Draper Fisher Jurvetson (DFJ), and Bessemer Venture Partners in July of 2013. Twilio secured a $130 million Series E round in July 2015, including participation from investors such as Fidelity, T Rowe Price, Altimeter Capital Management, and Arrowpoint Partners, in addition to Amazon and Salesforce.
Company Profile
A cloud communications platform such as Twilio Inc.'s Cloud Communications Platform makes it possible for developers to integrate live real-time communications into their software applications and expand them as needed. It provides a service management system with software tailored to certain use cases such as multifactor authentication and customer support, as well as a set of Application Programming Interfaces (API) for third-party integration (APIs).
It also provides a collection of APIs that allow developers to include phone, message, video, and email functionality into their apps. These APIs are meant to cover all of the primary ways people interact in order to target any telecommunication market. This is the software layer that lets its customers' applications to interact with other wireless networks all over the world via its Super Network. It establishes connections with communication networks and mailbox service providers all across the globe.
Twilio Inc. CEO and Key Executive Team
Names
Designation
Jeff Lawson
CEO/President
John Wolthuis
Co-Founder and Board Observer
Siddarth Bijlani
Vice President of Partner Operations
Mark Nelson
Vice President of Software Engineering
Ott Kauker
SVP Engineering
Source: investors.twilio.com, investors.twilio.com, twilio.com
Things you didn't know about Twilio Inc.
1. Its co-founder and CEO contributed to the development of the company
Jeff Lawson, co-founder and CEO of Twilio, was instrumental in the development of Amazon Web Services (AWS), which has grown to become the world's largest cloud computing platform. Lawson joined Amazon in 2004 as a product manager for a small team that would go on to establish Amazon Web Services (AWS) in 2006. The experience at Amazon, despite the fact that Lawson only worked there for 15 months, exposed him to the notion of providing computer infrastructure as a cloud-based service.
Twilio is a cloud-based communications platform that allows developers to incorporate phone calls, text messages, videos, and other features directly into their applications using APIs that extract data from Twilio's cloud service.
2. It got its first significant amount of media attention with a Rickroll
Twilio was created in 2007, but few people outside of the venture capital and app development communities were aware of the company until late 2008, when Lawson built an app that "rickrolled". The hoax was published by technology websites like as TechCrunch, who referred to Twilio as "some new start-up," therefore generating interest in the firm among the general public.
A few days later, Twilio formally debuted Twilio Voice, an API for making and receiving phone calls that was totally hosted in the cloud and was available immediately. That cleared the path for the company's cloud-based text messaging and video APIs, which were introduced later.
3. It received a significant boost from the 500 Startups program
One of Twilio's most significant funders was Dave McClure's 500 Startups, an early-stage venture capital and seed accelerator founded by former Google executive Dave McClure. Founded in 2010, the Twilio Fund was a "micro fund" that provided $250,000 in capital to start-ups that made use of Twilio's application programming interface (API).
Twilio made the decision to do so in order to increase brand recognition and extend its ecosystem. This is no longer a source of worry, as Twilio's platform now dominates its niche of cloud-based voice and text APIs, with companies such as Facebook's Messenger and WhatsApp, Netflix, and Airbnb among its most prominent users.
4. All "Twilions" are required to develop new Twilio applications
It is known as "Twilions," Twilio's workers are required to create a new Twilio-based application and showcase it to the rest of the business. Even non-engineers are required to go through the same process, as they are put through Twilio's coding "boot camp" to learn the fundamentals of coding.
Sadly, most of the applications, such as one that responds to text requests with a Simpsons GIF, aren't that useful. However, the most important point is that anybody, including those who are not programmers, can learn how to construct a Twilio-based application. After passing the exam, Lawson rewards the employee with a Twilion-branded track jacket and an Amazon Kindle with $30 in monthly credit — "to encourage individuals to invest in themselves," as he explained to Forbes magazine in September last year.
Why has Twilio been so successful at evangelizing developers around their API?
Our purpose as members of the Developer Evangelism team is to inspire and enable developers to construct the communications infrastructure of the future. We collaborate with developers to assist them in the development of online and mobile apps. Twilio's developer evangelists are often the initial point of contact for every software developer who comes into contact with the company, whether online or in person.
See Also: IBM Headquarters, All Office Locations and Addresses
In order to define the developer experience, product managers collaborate closely with developers. All of our project managers are highly technical, with many having previously worked as engineers. Their understanding of APIs is not only extensive, but they have also utilized many of them in the past. Whenever they've had to utilize anything with the incorrect feature set or without documentation, they've slammed their heads against the wall in frustration. Those are the kinds of problems you wish to prevent in the initial round of development.
That's when developer evangelizing comes in, which is frequently what people identify with Twilio because of its developer-friendly interface. A bigger idea is our Developer Network, which is responsible for a large portion of the coding and writing for our public-facing documentation, blog entries, and communications with the users. Generally, they will provide comments on the concepts for the new API that are in the early stages of development. This input is received far before the product is made available to the initial beta clients.
Top 5 Biggest Twilio Inc. competitors or Alternative
1. Verizon
A key member of the Dow Jones Industrial Average, Verizon is an American global telecommunications firm that is headquartered in New York City. The company's headquarters are located at 1095 Avenue of the Americas in Midtown Manhattan, New York City, however it was founded in the state of Delaware in 2007. What products and services does Verizon provide?
The Verizon Wireless mobile Broadband Internet Access Services are available on our 5G Ultra Wideband and 5G Nationwide, 4G LTE, and 3G Ev-DO broadband networks, and can be used by smartphones, basic phones, tablets, netbooks, USB or fixed modems, mobile hotspots, smart watches, and automotive hotspots, among other wireless connections.
2. Charter Communications, Inc.
Broadband connection and cable operator Charter Communications, Inc. conducts its operations as a provider of residential and industrial interconnectivity and telecommunications company services. Access control suites that safeguard computer systems from viruses and spyware are provided by the corporation, as is in-home WiFi, which offers users with great wireless routers to maximize their in-home wireless Internet encounter.
The company also offers Spectrum WiFi services, as well as video and audio streaming services. Voice communications services are provided through the use of voice over Transmission control protocol / internet technology; broadband communications resources are offered through the use of cellular towers and office buildings, and include Internet access, data networking, fiber connectivity, video entertainment, business telecommunications services, and video entertainment for corporation and distributor institutions.
3. Lumen Technologies
An international technology business, Lumen, allows organizations to capitalize on future applications and fuel the Fourth Industrial Revolution by providing cutting-edge technology (4IR).
It is transforming the world and work, generating an exceptional demand for enhanced enterprise application architectures that are particularly built to manage the complicated and data-intensive tasks of next-generation innovation and enterprises.
4. Amazon.com
With the help of technical development and rapid manufacturing, Amazon has acquired a reputation as a disruptor of well-known sectors. In terms of revenue and market share, it will be the world's biggest Internet firm, online marketplace, artificial intelligence assistant provider, cloud computing platform, and live-streaming service by 2021, according to the company.
The Amazon Prime Video, Amazon Music, Twitch, and Audible divisions are all platforms through which Amazon distributes a wide range of downloading and streaming content.
5. AT&T
AT&T Inc. (formerly the American Telephone and Telegraph Corporation) is a worldwide conglomerate holding firm based in Dallas, Texas, with its headquarters in the Whitacre Tower. The company was founded in 1876 and was previously known as the American Telephone and Telegraph Company.
With over a billion customers worldwide, it is also the leading supplier of mobile telephone services in the United States, according to the business. At the end of 2020, AT&T was placed 9th on the Fortune 500 list of the biggest firms in the United States, with sales of $181 billion, according to the company.
Is Twilio stock (TWLO) a good investment?
Twilio Inc. stock has a Value Grade of F, a Growth Grade of C, and a Quality Grade of D, giving it an overall grade of F. If this is a suitable investment for you, it will reflect on your objectives and asset allocation. AAII can assist you in determining both of these factors and identifying which investments are most aligned with what is best for you.
As part of our educational program, you will learn how to invest for yourself and become an excellent manager of your own money, allowing you to stop depending on others for your financial freedom and achieve economic freedom. Your financial planning and stock-picking questions will be answered by AAII's timeless publications, as well as impartial research and practical analyses that will help you become a better trader.
FAQ's
Where did Twilio Inc. go public?
Twilio filed for an initial public offering (IPO) on the NYSE, and the stock began trading on June 23, 2016, with a 92 percent gain in value on the first day.
Does Twilio Inc. pay dividends?
Twilio Inc. does not presently pay dividends and does not intend to pay dividends in the near future, according to the company.
Why do developers love Twilio?
One of the reasons developers like Twilio is that it enables them to do complicated tasks using easy command syntax. It is so simple to use that the firm notoriously urges all new workers to make something to show off at an all-hands conference to explain how to use it.
Where is Twilio hosted?
Amazon Web Services ("AWS") hosts the Twilio Services' cloud communication platform, which allows users to communicate over the internet. United States-based Amazon Web Services (AWS) data center infrastructure is utilized to provide Twilio Services to customers.
Does WhatsApp use Twilio?
WhatsApp is the most widely used over-the-top (OTT) application in many regions of the globe. You may contact more than 1.5 billion WhatsApp users with the WhatsApp Business API in conjunction with Twilio. You may send alerts, engage in two-way discussions, and even create chatbots using the platform.
What is Twilio programmable chat?
Programmable Chat from Twilio makes it simple to integrate chat functionality into your online and local mobile apps without the need to develop or scale a real-time communication backend. For complete control, Chat provides all of the APIs and functionality you need to interact with your business logic and keep you in command.
Executive Summary
For more than a decade, Twilio has been used by millions of developers across the world to unlock the power of communication and use it to improve every part of the human experience. APIs (Application Programming Interfaces) are used to integrate third-party applications (APIs). Developers may include phone, messaging, video, and email features into their applications using a range of APIs provided by the company as well.
In order to target any communications industry, these APIs are intended to cover all of the key ways that people engage with one another. Twilios Office locations are located in San Francisco, Atlanta, Denver Irvine, Mountain View and New York in the United States of America.