Where is Toyota Headquarters on Map?
| | Title | Category | Address | Description | Link | Address | Phone Number |
| --- | --- | --- | --- | --- | --- | --- | --- |
---
Toyota Motor Corporation is a global business enterprise specializing in automobile manufacturing and services based in Japan. Its operation focuses on cars and utility vehicles as well as automobile parts and products. Toyota is also one of the world's automobile frontrunner in sales of technologically-advanced hybrid electric as well as hydrogen fuel-cell vehicles. It manufactures vehicles under five major brands: the principal Toyota brand, Lexus, Ranz, Hino and Daihatsu. The automobile enterprise is the sixth largest company in the world by revenue as of September 2018. It operates mainly in Japan, and globally in Asia, Oceania, Africa, the Middle East, America and Europe.
General information
What does Toyota Motor Corp. do?
Toyota principally engages in the designing, manufacturing and selling of automobiles and their parts. Its automobile products include conventional engines, hybrid cars, fuel cell automobiles and other vehicles such as pickup trucks, minivans, buses and sports-utility vehicles. Its innovative ventures also include non-automotive services such as enterprises in aerospace, robotics and agricultural biotechnology and sewing machine technology.
Toyota also offer other services which include public relations, finance leasing business, designing of resident houses and information communication enterprise.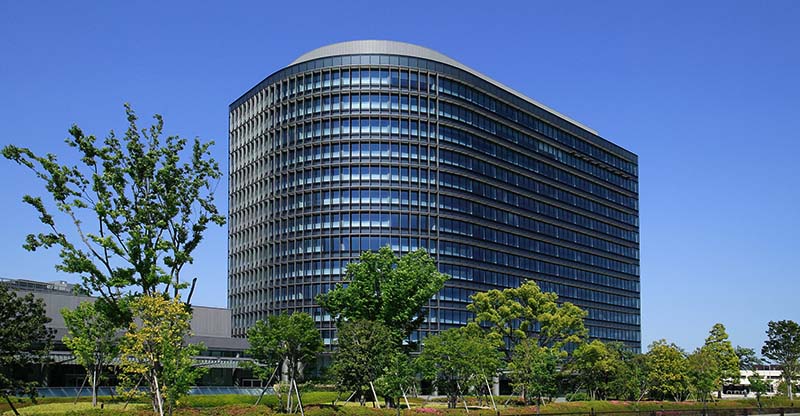 History
The world's leading automobile company was established in 1937 as a business spin-off from Toyota Industries which mainly manufactured automobiles. It first started with the line production of automated looms under the Toyota Production System, which followed the principle of jidoka, meaning that "the machine stops itself when a problem occurs."
The first Toyoda Model G Automatic Loom was produced in 1924. Five years later the production line was bought by the Platt Brothers, who then owned the biggest textile machinery company in the world. The procurement of the product served as the starting capital for the establishment of the automobile enterprise of Toyota, which officially started in 1933.
The first vehicle innovation Type A engine was first released three years prior to its independent establishment in 1937, followed by its first passenger vehicle labelled as Type AA.
During the 1940s to 1950s, the company began producing small-sized vehicles with the name "Toyopet." Thirty years later, it ventured into motorsports, followed by compact cars and more luxurious and high-end vehicles such as SUVs and sports cars. In the 2000s, Toyota made it to the list of Forbes 200 as one of the world's business leaders in 2005.
Recently in 2018, the company sealed an investment deal worth $500 million for Uber's autonomous or robotic cars.
Founders
Toyota Motor Corporation was founded by Kiichiro Toyoda in 1937. The company started as a manufacturer of automated looms led by his father Sakichi Toyoda. Sakichi later turned over the company to his son Kiichiro, who then transformed it into an automobile manufacturing business.
Company Profile
Toyota Motor Corporation is a Japan-based automobile business enterprise which designs and manufactures both commercial and passenger (private) vehicles. It also innovates, produces and assembles automobile parts and accessories.
The company continues to develop new technologies to live up to its global reputation as an ever-evolving mobility company. It has gone beyond manufacturing automobiles and is currently exploring its ventures and diversifying its portfolio in artificial intelligence and robotics as well.
It is listed on the Tokyo Stock Exchange, New York Stock Exchange and London Stock Exchange.
Toyota Motor Corp. Ltd. Products and Services
Products
Conventional engine vehicles
| | |
| --- | --- |
| Corolla | Tank |
| Yaris | Etios |
| Vitz | Vios |
| Prius C | AGYA |
| Aqua | Rush |
| Passo | Daihatsu |
| Roomy | Yaris iA |
Hybrid cars
| | |
| --- | --- |
| Prius | Avalon |
| Auris | Corolla HB |
| Prius PHV | Crown |
| C-HR | Century |
| LC | UX |
| Camry | Corolla SD |
| JPN TAXI | WG HV |
Fuel cell automobiles
Others
Toyota branded mini-vehicles, passenger vehicles, commercial vehicles
Camry and REIZ branded mid-size cars
Lexus, Avalon, and Crown branded luxury cars
Century limousines
LC and Supra branded sports cars
Tacoma and Tundra branded pickup trucks
Services
Retail financing and leasing
Wholesale financing
Prefabricated housing
Information technology
Contact Number / Address
Where is Toyota's main headquarters?
Toyota's main headquarters is located at the Honsha Plant in 1 Toyota-cho, Toyota, Aichi prefecture in the Chubu region of Japan. Its Tokyo head office is located at 1-4-18 Koraku, Bunkyo-ku, Tokyo.
How do I contact Toyota corporate office?
They can be reached through the following contact details:
Phone: +81 565282121
Fax: +81 565235721
www.toyota.com/support
www.toyota.com/support/#!/app/ask
Which country owns Toyota Company?
Japan, a first-world country in East Asia known for being a technologically-advanced nation owns Toyota Motor Corporation, which is currently headquartered in Toyota City, Aichi Japan.
Toyota Pipeline
The world's leading automobile manufacturer continues to invest heavily on artificial intelligence for its mobility company. Recently in 2019, Toyota Motor Corporation has allotted another $100 million fund for AI and potential mobility start-ups through its research department Toyota AI Ventures, just two years after its first $100 million funding in July 2017.
It envisions a plethora of mobility ventures such as self-driving shuttles (provided by May Mobililty), cognitive AI firm Intuition Robotics and Joby Aviation. Managing director of Toyota AI Ventures Jim Adler expresses his interest for these start-up investments and looks forward to developing and innovating their products and services through artificial intelligence and robotics.
Japanese Facilities
| Name | Postal code | Address |
| --- | --- | --- |
| Head Office | 471-8571 | 1 Toyota-Cho, Toyota City, Aichi Prefecture |
| Tokyo Head Office | 112-8701 | 1-4-18 Koraku, Bunkyo-ku, Tokyo |
| Nagoya Office | 450-8711 | 4-7-1 Meieki, Nakamura-ku, Nagoya City, Aichi Prefecture |
| Ikebukuro Building | 170-8405 | 3-3-5 Higashi ikebukuro, Toshima-ku, Tokyo |
| Honsha Plant | 471-8571 | 1Toyota-cho, Toyota City, Aichi Prefecture |
| Motomachi Plant | 471-8573 | 1 Motomachi, Toyota City, Aichi Prefecture |
| Kamigo Plant | 470-1217 | 1 Taisei-cho, Toyota City, Aichi Prefecture |
| Takaoka Plant | 473-0938 | 1 Sanko, Honda-cho, Toyota City, Aichi Prefecture |
| Miyoshi Plant | 470-0213 | 1 Namiki, Uchikoshi-cho, Miyoshi City, Aichi Prefecture |
| Tsutsumi Plant | 473-0932 | 1 Umanokashira, Tsutsumi-cho, Toyota City, Aichi Prefecture |
| Myochi Plant | 470-0214 | 1 Nishiyama, Myochi-cho, Miyoshi City, Aichi Prefecture |
| Shimoyama Plant | 470-0213 | 1 Shimoyama, Uchikoshi-cho, Miyoshi City, Aichi Prefecture |
| Kinu-ura Plant | 447-0834 | 10-1 Tamatsuura-cho, Hekinan City, Aichi Prefecture |
| Tahara Plant | 441-3401 | 3-1 Midorigahama, Tahara City, Aichi Prefecture |
| Teiho Plant | 471-8574 | 7 Teiho, Teiho-cho, Toyota City Aichi Prefecture |
| Hirose Plant | 470-0309 | 543 Kirigabora, Nishihirose-cho, Toyota City, Aichi Prefecture |
| Higashi-Fuji Technical Center | 410-1193 | 1200 Mishuku, Susono City, Shizuoka Prefecture |
| Shibetsu Proving Ground | 095-0181 | 4545-1 Onnebetsu-cho, Shibetsu City, Hokkaido |
| Tokyo Design Research and Laboratory | 192-0032 | 2-3 Ishikawa-cho, Hachiojii City, Tokyo |
| Nisshin Education and Training Center | 470-0113 | 5-210 Sakae, Nisshin City, Aichi Prefecture |
| Nagoya Wharf Center | 476-0005 | 33-3 Shinpo-cho, Tokai City, Aichi Prefecture |
| Tobishima Wharf Center | 490-1446 | 3-1-1 Higashihama, Tobishima-mura, Ama-gun, Aichi Prefecture |
| Tokai wharf Center | 476-0005 | 30-4 Shinpo-cho, Tokai City, Aichi Prefecture |
| Haruhi Parts Center | 452-0961 | 1-2 Shimonakawari, Haruhi, Kiyosu City, Aichi Prefecture |
| Inazawa Parts Center | 492-8441 | 1-5 Numasumita, Fukushima-cho, Inazawa City, Aichi Prefecture |
| Oguchi Parts Center | 480-0127 | 1-135 Shinmiya, Oguchi-cho, Niwa-gun, Aichi Prefecture |
| Kamigo Logistics Center | 470-1218 | 1-1 Kamigo-cho, Toyota City, Aichi Prefecture |
| Tobishima Logistics Center | 490-1445 | 46 Kanaoka, Tobishima-mura, Ama-gun, Aichi Prefecture |
| Yokohama Office | 236-0002 | 9 Torihama-cho, Kanazawa-ku, Yokohama City, Kanagawa Prefecture |
| Mikkabi Learning Center | 431-1402 | 3669-1 Tsuzuki Aza iwamoto, Mikkabi-cho, Kita-ku, Hamamatsu City Shizuoka Prefecture |
| Homi Training Center | 470-0344 | 57-28 Inomukai, Homi-cho, Toyota City, Aichi Prefecture |
| Fujioka Technical Education and Training Center | 470-0431 | 100-1 Ushiroda, Nishinakayama-cho, Toyota City, Aichi Prefecture |
| Kiyosu Training Center | 452-0932 | 1 Asahiyayoi, Kiyosu City, Aichi Prefecture |
| Toyota Technical Skills Academy | 470-0344 | 57-28 Inomukai, Homi-cho, Toyota City, Aichi Prefecture |
| Toyota Memorial Hospital | 471-8513 | 1-1 Heiwa-cho, Toyota City, Aichi Prefecture |
| Toyota Automobile Museum | 480-1131 | 41-100 Yokomichi, Nagakute City, Aichi Prefecture |
| Toyota Kuragaike Commemorative Hall | 471-0001 | 250 Ikeda-cho Minami, Toyota City, Aichi Prefecture |
| Toyota Sports Center | 470-0344 | 57-230 Inomukai, Homi-cho, Toyota City, Aichi Prefecture |
| Toyota Biotechnology and Afforestation Laboratory | 470-0201 | 1099 Marune, Kurozasa-cho, Miyoshi City, Aichi Prefecture |
| Sapporo Service Branch | 062-0051 | 14-1-60 Tsukisamuhigashi 1-jo, Toyohira-ku, Sapporo City, Hokkaido |
| Kita-Tohoku Service Branch | 028-3602 | 145 Daijyuchiwari, Oaza Fujisawa, Yahaba-cho, Shiwa-gun, Iwate Prefecture |
| Sendai Service Branch | 981-3206 | 3-23-1 Akedoori, Izumi-ku, Sendai City, Miyagi Prefecture |
| Kita-Kanto Service Branch | 321-0118 | 6-2-10 Inter Park, Utsunomiya City, Tochigi Prefecture |
| Shibaura Service Branch | 108-0023 | 7F Toyota Technocraft building, 4-8-3 Shibaura, Minato-ku, Tokyo |
| Hokuriku Service Branch | 920-0177 | 2-6 Hokuyodai, Kanazawa City, Ishikawa Prefecture |
| Osaka Service Branch | 664-0854 | 3-1-23 Minami-cho, Itami City, Hyogo Prefecture |
| Hiroshima Service Branch | 739-0041 | 3823-1 Oaza jike Aza motokawa, Saijyo-cho, Higashi Hiroshima City, Hiroshima Prefecture |
| Shikoku Service Branch | 769-1613 | 4001-2 Onohara-cho, Kanonji City, Kagawa Prefecture |
| Fukuoka Service Branch | 811-2302 | 185-3 Oaza okuma, Kasuya-machi, Kasuya-gun, Fukuoka Prefecture |
| Minami-Kyusyu Service Branch | 899-5652 | 3466-5 Hiramatsu, Aira City, Kagoshima Prefecture |
Reference: www.toyota-global.com/
YOU'll ALSO LIKE:
American Telephone and Telegraph Company Headquarters
Netflix Headquarters
J.P. Morgan Chase & Co. Headquarters
Pfizer Inc. Headquarters
Alphabet Inc. Headquarters
Facebook, Inc. Headquarter
ABB Group Headquarters Office
Apple Inc. Headquarters
Visa Inc. Headquarters
WhatsApp Inc. Headquarters