Where is SpaceX Headquarters on Map?

| | Title | Category | Address | Description | Link | Address | Phone Number |
| --- | --- | --- | --- | --- | --- | --- | --- |
---
SpaceX is one of the best in line and most famous in terms of spacecraft designing and manufacturing. It is a private company that has developed and is still developing different rockets. It continues to transport supplies to the ISS and to higher orbits such as geostationary.
Elon Musk, owner and CEO of SpaceX and Tesla, has put all his time and effort in establishing the company and gaining money from it. In an interview, he even mentioned that even if it is a great financial risk, he will still pursue.
General information
| | |
| --- | --- |
| HQ: | Rocket Rd, Hawthorne, California, USA |
| Zip Code: | 90250 |
| Industry: | Aerospace |
| Founded: | May 6, 2002 |
| Founder: | Elon Musk |
| Products: | Several launch vehicles, Several rocket engines, Dragon capsules, Starship (in development), Starlink, ASDS landing platforms |
| Services: | Orbital rocket launch |
| Website: | www.spacex.com |
What Has SpaceX Done That Other Companies Haven't?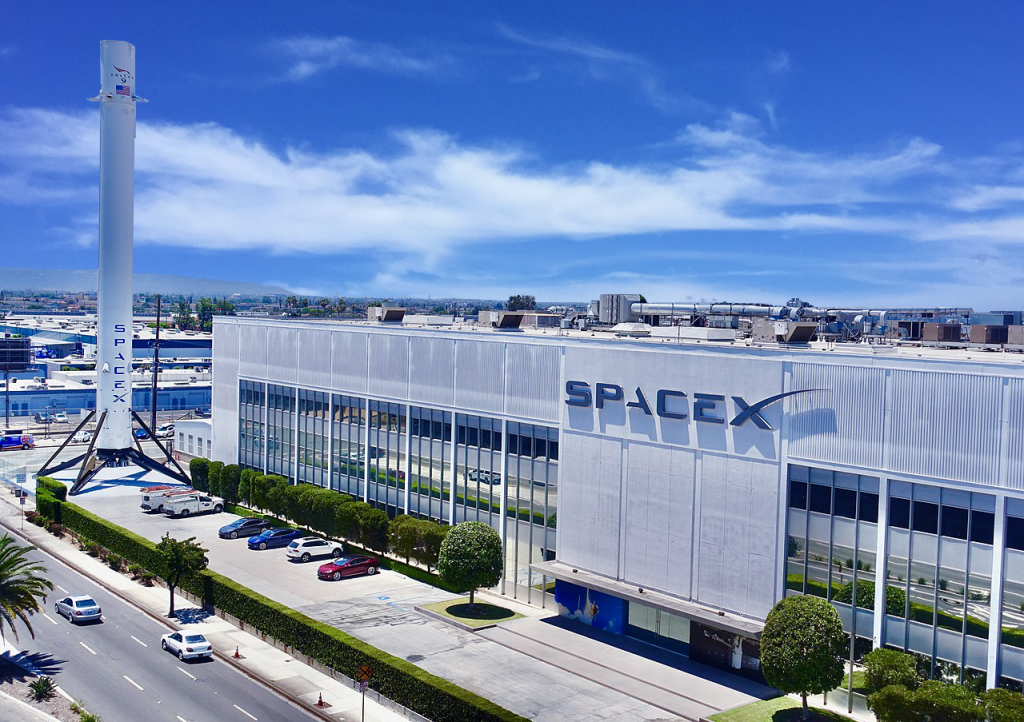 SpaceX scored in every news headlines in 2010 as the first ever private company to launch a payload into the orbit. This even returned to the Earth intact. This is a breaking news since only government agencies (i.e. NASA or Russia's Roscosmos) have done this before. Another first is when its Falcon 9 rocket landed upright and has recovered its first stage on December 21, 2015. Other companies have tried doing the same but failed.
The Blue Origin which was owned by the Amazon founder Jeff Bezos, sent a rocket to the space but unluckily, it did not achieve orbit unlike SpaceX' Falcon 9 Rocket.
How SpaceX Transformed Space Exploration
Aside from the technicalities, SpaceX also achieved a business feat as it has drastically cut the costs of launching rockets. Because of this, it has emerged as a front runner in the industry. In 2012, SpaceX launched Falcon 9 for a price of $57 million. Since SpaceX is a private company, it has the power of not filing patents since they have been planning to reveal secrets about its technology.
The innovations of its technology involve making production floor and engineering which are both situated right next to each other. This makes the company more efficient as it offers faster turnaround and better communication.
How does SpaceX make money?
Offering significant advances in space technology, SpaceX makes money through launching satellites into low earth orbit. Aside from this, the company also transports cargo to and from the International Space Station.
SpaceX plays with the market as it offers much less charges per launch compared to other companies. Although it results to small profit, its cheaper charge allows the company to line up more launches. This has led to a greater opportunity to improve and advance its expertise in space technology. Cash flows positively since SpaceX focuses more on the long-terms aspects of interplanetary travel.
History
SpaceX began when Elon Musk conceptualized a project in 2001 that aims to land a miniature greenhouse and grow plants on Mars. This is called Mars Oasis. He even said that this idea would be the furthest that life has ever traveled. Elon Musk did this to regain the public's interest on space technology and exploration thereby increasing NASA's budget. He looked for cheap rockets to buy in Russia but he failed since no rockets were available at an affordable price. Because of this, he thought of developing a company that can build affordable rockets. After studying and finally applying vertical integration, he became successful in cutting SpaceX' launch price by a factor of ten but retaining a 70% gross margin.
The company has been working on completing the certifications needed for the transport of human cargo or astronauts to the ISS. Its ultimate goal is to enable people to live on other planets. They have introduced their Falcon Nine rocket, the technology that can configure how to get all the way to Mars. Upcoming missions of NASA may or may not use some of their few other rocket projects.
SpaceX List of launch vehicles
The company's manufactured launch vehicles are used in operating its launch provider services. To execute various exploration goals, SpaceX manufactured the following:
Current Launch Vehicles
Falcon 9 Full Thrust family of medium-lift launch vehicles
Falcon Heavy family of heavy-lift launch vehicles
In development Launch Vehicles
Retired Launch Vehicles
Falcon 1
Falcon 9 v1.0
Falcon 9 v1.1
Grasshopper
Canceled Launch Vehicles
Falcon 1e
Falcon 5
Falcon 9 Air
Founders
Elon Reeve Musk, who was born on June 28, 1971, is the founder of SpaceX. He is an industrial engineer, technology entrepreneur, and a philanthropist in one. He is also the CEO and chief engineer or designer of the said company.
Another rocket scientist and a co-founder of SpaceX is Tom Mueller. He is the chief technology officer of propulsion. His team focuses on how to make sure that rockets lift off.
Company Profile
SpaceX stands for Space Exploration Technologies Corporation. This is an American aerospace manufacturer and space transportation services that is headquartered in Hawthorne, California. Aside from developing several launch vehicles, the company also studies the Starlink satellite constellation, and the Dragon spacecraft.
Everything you need to know about SpaceX
SpaceX will be the first ever commercial aerospace company to carry humans into the Earth's orbit. The launching of its Crew Dragon spacecraft will still push through despite the COVID-19 pandemic scare. This pandemic has greatly affect both private and government operations but NASA suggests that SpaceX must still carry on its mission. For the past years since 2011, the US has not launched its own astronauts into space. This happened when the Space Shuttle Program ended. NASA astronauts have to travel to Russia to train in their Soyuz spacecraft. And this is the reason why, the development of SpaceX has been beneficial to NASA.
But is it safe to launch during this COVID-19 pandemic? According to NASA, yes since their astronauts have been in strict quarantine and precautions were imposed in the facilities to keep it clean.
For the record, two veteran astronauts will fly to space namely, Robert Behnken, 49, and Douglas Hurley, 53. Both astronauts have spent years of learning how to operate the SpaceX's Crew Dragon spacecraft. They are expected to spend 1-3 months in space with a maximum length of 110 days. As for the technicalities, Crew Dragon is deemed safe as it has undergone every major testing milestone and NASA have already conducted a "launch readiness review".
What is it like to work at SpaceX?
According to a former Head of Software Quality Assurance at SpaceX, the company considered interns like a full part of the company. When hired full-time, an approval is needed from both Gwynne and Elon. Both were very hand-on and were part of the interview committee before the company has gotten too large for them to interview all employees. Relocation and a nice furnished corporate housing will be given. No private offices but everyone has a cubicle. This gives every worker the full access to the factory and can even explore the company during breaks. The nicest thing about this is that communication is very open. Elon, the founder himself, is very approachable and anyone can talk or send emails to him.
How can I work for SpaceX?
Many job hunters are coveted into applying for work at SpaceX. The cream of the crop for engineering talents get their eyes fixed into SpaceX hugely ambitious projects. Because of such, the hiring bar at SpaceX is incredibly competitive. To get hired, you need the following:
You have to decide how you want to apply.
You can either sign up as an intern or as a full-time employee. If you are still a fresh graduate, it is better to apply for internship so you'll have an idea how the company works.
You have to be ready in terms of talking about your past projects.
SpaceX is very particular in seeing how you will act on problem solving skills. And this will be based on your hands-on experience.
You have to prepare for a lot of interviews.
The hiring process is long and it usually lasts for 6 months. Interview process includes phone interviews and flying to their headquarters in Hawthorne, CA.
You have to write a short essay addressed to Elon Musk.
It's part of the hiring process where you write a two-page essay to the founder of SpaceX himself. You have to write in detail why you should get the job at SpaceX.
You have to prepare for tough interview questions.
Interestingly, Elon Musk is fond of asking riddles. But aside from this, it can get challenging with questions such as "how can the employee apply statistical process control to a low volume product such as rockets."
Most Asked Questions:
Where is SpaceX's Mission Control?
What was once a factory for Boeing aircraft fuselage was repurposed by SpaceX to become an all-in-one spaceport. The area that is near the factory floor and the kitchen is the mission control itself.
Are SpaceX Rockets Special?
SpaceX rockets are modular. Its Falcon rocket has one engine model while its Falcon 9 has nine. Its Falcon Heavy, which is about to fly, has 27. Because of their streamlines production, this enables them to cut costs. Around 80% of its rocket parts are made in their factory floor thereby reducing outsourcing costs.
Where does SpaceX build their rockets?
SpaceX has four launch facilities namely, Cape Canaveral Space Launch Complex 40 (SLC-40), Vandenberg Air Force Base Space Launch Complex 4E (SLC-4E), Kennedy Space Center Launch Complex 39A (LC-39A), and South Texas Launch Site. The company leased a 53,000 square foot space which was the former Spacehub building at Port Canaveral. Another suborbital test facility is headquartered in Texas which is the SpaceX Rocket Development and Test Facility. Currently, SpaceX is building new large facility called the Horizontal Integration Facility which will house the Falcon rockets.
Why Are Rockets Still So Failure Prone Despite Decades of Production?
Unfortunate events are inevitable to happen in the space game. The deemed SpaceX explosion in June was due to an overpressure event. This cause a faulty strut in the second stage of the rocket. But the company believes that this event can be controlled and can still be corrected for the next launch.
What is better SpaceX vs NASA?
Neither of the two is better than the other because both aims for a well space program. It is just that NASA is already a giant in terms of space exploration but SpaceX rockets are also capable of developing and launching rockets to the outer space.
Is SpaceX a publicly traded company?
SpaceX is a rocket manufacturing company that is privately-funded. It has been using reusable rockets and launch system which makes then cost-efficient. But recent speculation show that Musk might take out his space technology to the public. However, Elon Musk made it clear that he does not have plans of taking SpaceX into the public as its short-term demands may contradicts with the company's long-term ambitions. He even reiterated that he thought of this speculation as impossible.
How much does a SpaceX space suit cost?
Starman suit development for SpaceX began in February 2015. It was designed by Jose Fernandez, who is a costume designer, and Elon Musk. The said suit is designed for astronauts to wear within the Dragon space capsule. It usually costs only a fraction of the NASA's standard cost which is US$12,000,000.
Can you tour SpaceX headquarters
Definitely yes! You can bid your chance to visit the headquarters and you can also bring a tour group of up to 10 guests. The headquarters in Hawthorne, California is just minutes away from Los Angeles International Airport and from there you will appreciate the complete fabrication and design, as well as the assembly of the rocket and engines of SpaceX. This is valid for US citizens and permanent residents. However, international guests need a pending welcome clearance before they can pass through the SpaceX security.
What to do in SpaceX headquarters
Aside from having a sight of what is in there, the guests can also have the chance to meet the founder in person. Since this tour is not usually available to the general public, you really have to set the bar high and bid higher than the others.