Mastercard Incorporated is an American technology company which focuses on the financial service sector and offers solutions for business and personal clients around the world through electronic modes of payment. It provides global services for payments processing and transaction facilities, which include authorization and settlement of fees for financial institutions, local and national governments, small to large-scale businesses and merchants.
Mastercard Inc. allows the customer and the institutional clients to handle, manage and transact different forms of payment products and processes through its wide range of brands, which includes MasterCard, Maestro and Cirrus. It also helps facilitate electronic payment transactions through its network to allow its users to defer payment.
Ajaypal Singh Banga is the President and CEO of Mastercard Incorporated. He initially started out as a financial analyst in his home country in India, and worked his way up in the ranks in different banks and other companies such as CitiGroup to become one of the most trusted, efficient and competent executives in the world.
Where is Mastercard Inc. Headquarters on Map?
Has 83 office locations across 64 countries.

| | Title | Category | Address | Description | Link | Address | Phone Number |
| --- | --- | --- | --- | --- | --- | --- | --- |
---
General Information
Where is the Mastercard Corporate Office Headquarters?
As I have previously mentioned, the Mastercard headquarters is located at 2000 Purchase Street, Purchase, New York 10577. This address is also the same location for the Mastercard corporate office.
The company, however, also has an operations center you can reach in St. Louis. This is located at 2200 Mastercard Boulevard, O'Fallon, MO 66368+ 7263 in the United States of America. The operations center's contact number at 636-722-6100.
How do I contact Mastercard corporate office?
You can reach out to Mastercard's corporate office and global headquarters by dialing 914-249-2000. Here, agents from its Purchase Street address will be more than happy to help you out.
On the other hand, if you want to reach their operations center, you can give them a call at 636-722-6100.
Where is the MasterCard Global Operations Center located?
The Mastercard global operations center is located at 2200 Mastercard Boulevard, O'Fallon, MO 63368+ 7263. This can be found in St. Louis. You can reach the global operations center by calling 636-722-6100.
Where is the MasterCard Head Office in Canada
The Mastercard head office in Canada can be found at 121 Bloor Street East, Suite 600, Toronto, Ontario M4W 3M5. Mastercard Canada's telephone number is 416-365-6655.
History
The company was founded in 1966 and organized through a collaboration among a dedicated group of regional bank companies. It emerged as a form of competitive alliance against the then-successful establishment of BankAmericard despite its initial tragic debut in 1958. In the course of 1966 to 1968, amidst the steady growth of BankAmericard, about 440 credits card had been launched by different banks across the United States. These small individual companies then decided to work together and form regional bankcard associations.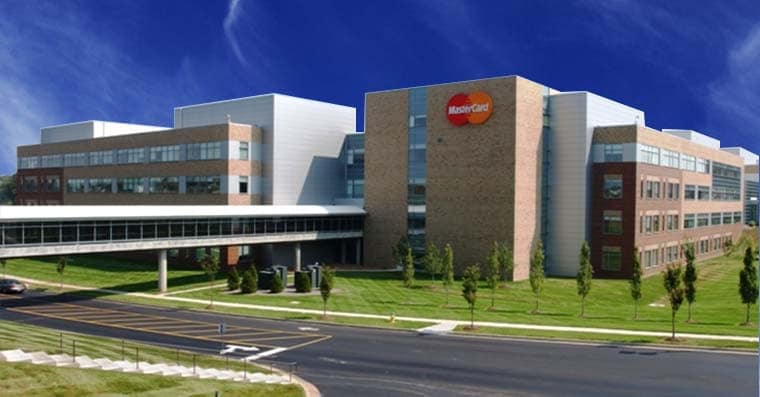 In 1966, they launched their company Interbank Card Association (ICA). The company started slow and was quite unpopular as the team struggled with their logo branding and company naming. They continued to revamp the design and renamed the company as "Master Charge: The Interbank Card" in 1969.
Timeline of the Branding of Mastercard
1966 – Interbank Card Association (ICA)
1969 – Master Charge: The Interbank Card
1979 – MasterCard
2006 – MasterCard Worldwide
2016 – mastercard
Expansions, Merges and Acquisitions
Within the next six years from 1966 to 1972, further alliances with Interbank formed. The First National City Bank joined forces with Interbank in 1966, merging its propriety corporation Everything Card. In 1968, Eurocard forged a strategic partnership with Interbank to allow ICA access to the European market. The Access card system based in the United Kingdom followed and formed an alliance with the corporation in 1972.
Subsequent Merges
2002 – merging with Europay International, a credit-card service provider
2010 – acquisition of DataCash, a payments transaction and processing company
2014 – acquisition of Pinpoint, a rewards program manager corporation
2017 – acquisition of Brighton, an AI and machine learning technology company
Mastercard Inc., being a result of an alliance among a cooperative of regional banks, had an initial public offering (IPO) in 2006. It sold a total of 95.5 shares of stock, and is then traded on the New York Stock Exchange (NYSE) under the symbol MA.
Company Profile
Mastercard Incorporated is a credits and transactions service provider which offers innovative solutions through technology and delivers convenient, safe and secure electronic payments for a wide variety of economic and business ventures. Geared towards a vision of transforming lives "beyond borders… beyond mere moments" and ultimately moving towards a "World Beyond Cash®," it continues to revolutionize the digital landscape and keeps up with the ever-changing and fast-paced technological world.
The 53-year-old company has raised the bar in being the world's fastest monetary transaction and payment processing system, connecting financial institutions, business companies, governments and individual consumers and clients in more than 210 countries using 150 currencies across the globe. It accomplishes about 56 successful transactions a year, advancing the economic sector and commerce to their optimal growth.
Products and Services
Mastercard Incorporated provides different products, services and solutions that caters to different forms of electronic payment. These include credit, debit and prepaid services for consumers, which provide a more convenient form of payment and help them to access their personal funds in various accounts. It also provides solutions for prepaid and commercial payment programs, as well as loyalty and reward programs. It also offers services such as safety and security, information and analytics, consulting, and issuer and acquirer processing.
For Consumers
Mastercard Inc. focuses on providing solutions on basic monetary transactions and for consumers to conveniently defer payment. Among others, it offers ID theft protection to secure its client's personal information when transactions are made. It also innovated a SecureCode® service system which provides better security for online shopping.
For Merchants
The company also provides solutions to boost merchant sales, improve their efficiency and productivity in the business and reinforce better partnerships between their customers and the business through co-branding. It also utilizes cutting-edge technology using EMV chip system and SecureCode® to help these businesses fight payment transaction fraud.
For Governments and Public Sectors
Mastercard Inc. delivers efficiency and growth in commerce as well, making transactions with the agricultural and economic sectors more readily available and feasible. It also offers services for public finance management and financial inclusion and empowerment.
For Businesses
Finally, Mastercard Inc. readily caters to small and middle to large businesses around the world. It helps them manage their financial division, offers solutions to payment options such as digital payments, and provides assistance with their expense tracking and management.
YOU'll ALSO LIKE:
American Telephone and Telegraph Company Headquarters
Netflix Headquarters
Johnson & Johnson Headquarters Office
Snap Inc. Headquarters Office
Pfizer Inc. Headquarters
Alphabet Inc. Headquarters
Facebook, Inc. Headquarter
ABB Group Headquarters Office
Oracle Corporation Headquarters
Visa Inc. Headquarters