JetBlue Airways on Map

| | Title | Category | Address | Description | Link | Address | Phone Number |
| --- | --- | --- | --- | --- | --- | --- | --- |
JetBlue Airways is a significant American low-cost carrier and North America's seventh largest airline by passenger traffic. JetBlue headquarters is located at the Queens borough of New York City's Long Island City area, with corporate offices in Utah and Florida. It was placed #394 on the Fortune 500 list of the top American firms by total revenue in 2020.
JetBlue flies to over 100 domestic and international locations in the United States, Mexico, the Caribbean, Central America, South America, and Europe on a daily basis. JetBlue is not a member of any of the three major airline alliances, but it has codeshare agreements with 21 airlines, including Oneworld, SkyTeam, and Star Alliance members as well as non-affiliated carriers.
General Information
Where is JetBlue Corporation headquarters located?
JetBlue's headquarters is located in the Brewster Building in Long Island City, New York. Helen Marshall announced it as the headquarters in April 2009, out of two alternatives – the metropolitan area of New York City and the Orlando, Florida area. The location not only maintains the airline's historical connections, but also provides access to financial markets and lowers the cost of worker relocation. It covers a total area of 200,000 square feet and occupies two and a half levels, providing ample space for the 1,000 individuals who work there. The workplace is quite huge, stylish, and pretty first-class for an airport theme!
Customers can visit JetBlue's headquarters to speak with the company's officials in person. The following is JetBlue's corporate headquarters address:
27-01 Queens Plaza N, Long Island City, NY 11101, United States of America.
You can also contact JetBlue headquarters by calling on the following phone number: +1 718-286-7900
How do I contact JetBlue corporate office?
If you're looking for a means to contact JetBlue's headquarters or customer service staff, here are some options:
Address
Customers can visit JetBlue's headquarters to speak with the company's officials in person. The following is JetBlue's corporate office address: 27-01 Queens Plaza N, Long Island City, NY 11101, United States of America.
Number to call
If customers need assistance while sitting at home, they can phone the customer service center for a personalized response to any inquiry or problem. JetBlue Customer Service is available 24 hours a day, 7 days a week, to all customers, no matter where they are in the world. The phone number for JetBlue can be found below. Customers should be aware that booking a flight over the phone will include a $25 surcharge.
+1 718-286-7900
Email Address
Customers are welcome to contact JetBlue by email if they feel comfortable doing so. JetBlue's excellent customer care can be reached at the following email address.
Website
JetBlue's website provides us with a peek into a well-established firm that is always prepared to provide excellent customer service. The website can be used to learn everything there is to know about the company or to book a flight.
How do I get through to JetBlue customer service?
You can go through JetBlue customer service in number of ways. They have a contact us page on their website that has almost all the help topics that you need. If you still want some other help, you can contact the crew directly with their contact section regarding on which platform you are using their app.
JetBlue History
JetBlue Airways has a great history. We will discuss their complete history from foundation to present.
1998–2000 founding
JetBlue was founded in August 1998 in Delaware, with JetBlue headquarters in Forest Hills, Queens. The company was started by David Neeleman in August 1999 under the name "NewAir." JetBlue began by copying Southwest's low-cost travel strategy, but added luxuries like in-flight entertainment, TVs in every seat, and Sirius XM satellite radio to differentiate itself.
The airline was allocated 75 first take-off/landing slots at John F. Kennedy International Airport in September 1999, and its USDOT CPCN authorization was received in February 2000. It began service on February 11, 2000, with destinations including Buffalo and Fort Lauderdale.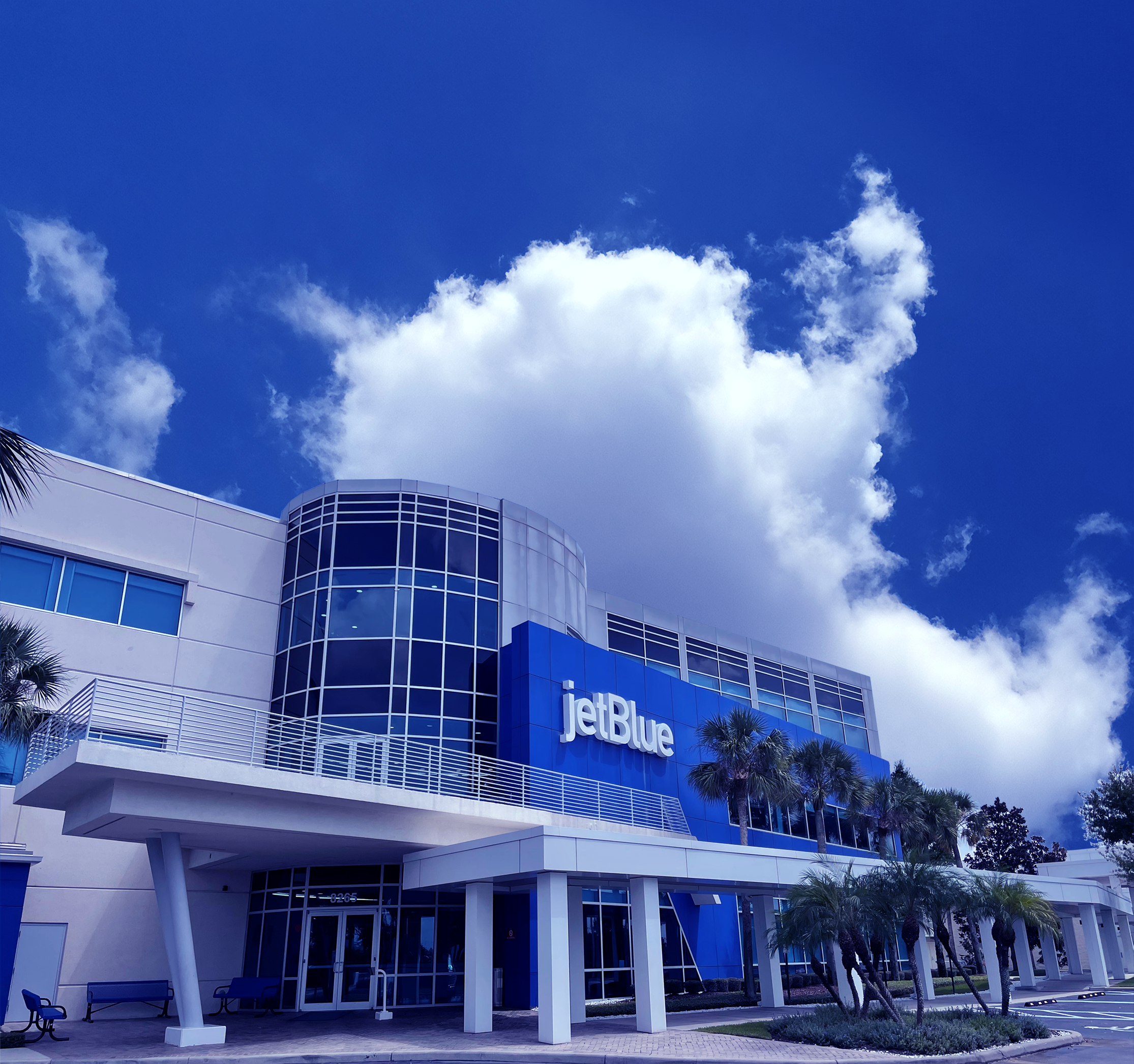 JetBlue's founders intended for the airline to be known as "Taxi" and to have a yellow livery to associate it with New York. After investor JP Morgan threatened to withhold its part ($20 million of the total $128 million) of the airline's first capital unless the name was altered, the project was shelved.
2000s
JetBlue was one of the few U.S. airlines to make a profit during the significant drop in aeroplane travel that followed the September 11 terrorist attacks. Due to the assaults and the accompanying downturn, the company's planned initial public offering was placed on hold. The initial public offering (IPO) took place in April 2002.
In response to JetBlue's market presence, the airline industry created mini-rival carriers: Delta Air Lines established Song, while United Airlines introduced Ted. Song was disbanded and reabsorbed by Delta Air Lines, while Ted was reabsorbed by United Airlines.
JetBlue and Lufthansa, based in Germany, announced their intention to sell 19 percent of JetBlue to Lufthansa on December 13, 2007, pending permission from US regulators. Following the acquisition, Lufthansa announced that they expected to work with JetBlue on operational matters. In Boston, New York (JFK), and Orlando International Airport, Lufthansa planned to offer JetBlue connections (no longer a connection). Following a codeshare agreement with Lufthansa that took effect in 2010, JetBlue switched to Lufthansa's Sabre reservation system, which allowed the airlines to sell tickets on each other's flights, transfer luggage and passengers, and integrate frequent flyer programs. The partnership allowed Lufthansa to operate quasi-hubs at New York–JFK and Boston Logan by using JetBlue's North American routes as a feeder network.
2010s
JetBlue has interline booking agreements with South African Airways and American Airlines in 2010 to allow travelers with connecting flights on a different carrier to move their luggage across airlines. JetBlue's 18 non-American destinations and American's 12 foreign flights out of New York–JFK and Boston Logan were included in the deal with American. JetBlue was also given eight round-trip slots out of Washington National Airport in Washington, D.C., and two out of Westchester, New York. In exchange, JetBlue provided American with six round-trip flights from JFK Airport in New York. According to JetBlue's website, the deal with American Airlines has subsequently expired.
JetBlue was one of the first airlines to be granted a license to begin charter flights to Cuba, departing from New York City, on May 6, 2015. The weekly charter service with 150-seat Airbus A320s commenced on July 3, 2015.
Michael Stromer was named Chief Product Officer, Technology, by JetBlue on May 1, 2019. Mr. Stromer was chosen to lead the design and implementation of digital commerce web and mobile applications that support revenue initiatives, as well as technology for airports, customer service (reservations), system operations, technical operations, flight and inflight teams, and back-office products.
J.D. Power put JetBlue and Southwest Airlines in a tie for 'Highest in Customer Satisfaction Among Low-Cost Carriers' in the North America Airline Satisfaction Study on May 29, 2019.
On October 18, 2019, JetBlue and Norwegian Air Shuttle revealed plans for an interline agreement that would allow the selling of jointly issued tickets. If approved by both airlines, the arrangement would take effect in 2020. The alliance was formed to take use of each airline's extensive pre-existing presence in the airports of New York–JFK, Boston, and Fort Lauderdale.
2020s
JetBlue stated its plans to become carbon neutral on all domestic flights in January 2020. Joel Peterson announced in February 2020 that he will step down from the airline's board of directors at the conclusion of his current term, and was succeeded by Peter Boneparth in May 2020. Since 1999, Peterson had been a member of the airline's board of directors, and since 2008, he has served as chairman.
JetBlue launched its new Mint Suite product on February 1, 2021, which was to be installed on the company's complete Airbus A321LR fleet for future transatlantic flights to London and on certain of its A321neo aircraft for select flights to Los Angeles. JetBlue announced its expansion into Canada on April 21, 2021, introducing new services between Vancouver and both New York City and Boston.
JetBlue's debut Airbus A220-300 flight from Boston Logan International Airport to Tampa International Airport took place on April 26th, 2021. JetBlue announced the commencement dates and destination airports for its scheduled flights to London, and by extension, Europe, on May 19, 2021.
The airline stated that it would begin operating services from JFK Airport in New York to London Heathrow and Gatwick Airports on August 11, 2021 and September 29, 2021, respectively. As a result, the airline's scheduled flights between London and Boston have been pushed back until 2022.
JetBlue Airways CEO and Key Executive Team
Names
Designation
Robin Hayes
Chief Executive Officer
Mike Elliott
Chief People Officer
Joanna Geraghty
President & Chief Operating Officer
Scott Laurence
Head of Revenue and Planning
Tracy Lawlor
Chief Strategy & Business Development Officer
Source: blueir.investproductions.com, blueir.investproductions.com
15 JetBlue Facts Will Make You Love the Airline Even More
JetBlue was one of the earliest low-cost carriers to launch in the United States. It has been in business for nearly two decades and is still one of the most popular airlines in the United States. It has come a long way since its humble beginnings at this period. Even if you are familiar with JetBlue in some capacity, there are certain facts about the airline that you may not be aware of, which are included below. Following are the 15 JetBlue facts that will make you love the airline even more.
JetBlue is the airline with the most legroom in coach.
The airline is noted for its extensive selection of in-flight entertainment.
JetBlue has 216 aircraft in its fleet.
Every single one of these 200-plus plane has Fly-Fi.
You save money by checking your bag online.
Every seat now has in-seat power and a USB port, thanks to a redesign of the aircraft cabin.
The airline is extremely pet-friendly.
JetBlue flights include complimentary food.
There is now a first-class option available on the airline.
TrueBlue, JetBlue's loyalty program is fantastic.
JetBlue has a good compensation scheme in place in the case of a flight delay.
Since its initial flight in 2000, JetBlue has developed tremendously.
The airline is the first to establish a STEM education foundation.
JetBlue is committed to operating in a sustainable manner.
They have codeshare agreements with a number of other airlines.
Top 5 biggest JetBlue competitors or Alternative
| | |
| --- | --- |
| Top Competitors or Alternative | Founded |
| Delta Air Lines | 1925 |
| American Airlines | 1926 |
| United Airlines | 1926 |
| Alaska Airlines | 1932 |
| Southwest Airlines | 1967 |
FAQ's
When did JetBlue go public?
JetBlue was one of the few U.S. airlines to make a profit during the significant drop in Aeroplan travel that followed the September 11 terrorist attacks. Due to the assaults and the accompanying downturn, the company's planned initial public offering was placed on hold. The initial public offering (IPO) took place in April 2002.
Can you buy stock directly from JetBlue?
JetBlue stock can be purchased through any registered brokerage firm of your choice. JetBlue currently does not have a direct stock purchase strategy.
Who is the auditor of JetBlue?
Shawn D. Holdridge, CPA – Director, Corporate Audit – is the auditor of JetBlue Airways
Is JetBlue HQ open to public?
JetBlue headquarters is located at the address "27-01 Queens Plaza N, Long Island City, NY 11101, United States". And it is open to public during office hours from 9AM to 5PM.
Executive Summary
JetBlue is one the best budget airlines services you can find in US. JetBlue's valuation is currently relatively high by several criteria. JBLU receives an "A" for valuation according to Seeking Alpha's quantitative analysis. It also receives an "A+" in price/cash flow, an "A" in price/book, and high marks in other valuation categories. So, it's a good time to buy JetBlue stocks at this time.