Millions of individuals across the globe have been introduced to multinational superconductor maker and technology company Intel. It is one of the biggest names when it comes to chipmaking, especially as it has one of the largest market shares in the semiconductor industry alongside Samsung and Qualcomm.
If you want to know more about Intel, its headquarters, and other information about its corporate officers, here's what you need to know.
Where is Intel Headquarters Located?
As a huge name in the semiconductor industry, Intel is bound to have an impressive headquarters. True enough, the company has a sprawling location in Silicon Valley. The Santa Clara, California headquarters has been around since 1970 covering the land with an area of 238,211 square feet.
This location houses a significant portion of its 14,600 employees in California, including the offices in San Jose, Folsom, Irvine, and San Diego.
The exact address of the place is 2200 Mission College Boulevard, Santa Clara, California, 95054, United States. The company's contact number is +1 408-765-8080. Its lines are open during business hours.
Where is Intel Corporate Office?
Intel's headquarters in Silicon Valley is also its corporate office. In fact, the given address serves as its corporate mailing address to where people can send communications.
Aside from the headquarters in California, the company also has locations all over the United States such as in Arizona, the District of Columbia, Miami, Connecticut, Colorado, Illinois, and many more.
Intel also has a presence across the globe such as in Argentina, Australia, Austria, Chile, China, France, and Germany, just to name a few.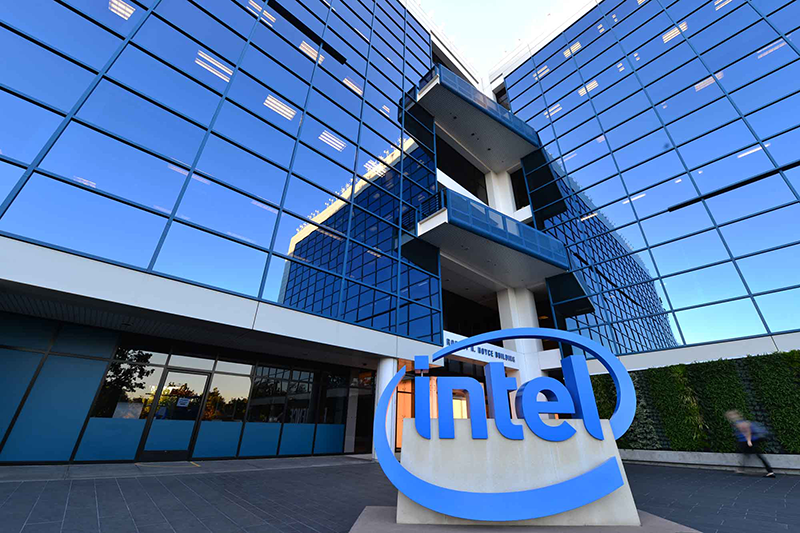 Where is Intel Corporate Office in Canada?
One of its biggest international operations is in Canada, which is headquartered at 150 Bloor Street West, Suite 400, M5S 2X9, Toronto, Canada.
Aside from this, Intel has various locations in Canada such as in Brossard, Kanata, Toronto, and Vancouver.
Where is Intel Corporate Office in UK?
Another significant operation for Intel is in the United Kingdom. Intel's main office in the United Kingdom is located at 40 Bank Street, Canary Wharf, E14 5NR. The company also has offices in Daventry, High Wycombe, and Winnersh Triangle.
How Do I Contact Intel?
If you have any concerns or feedback for the company, you can reach out via different contact methods. Here are some of the most common lines of communication.
Intel Corporation's corporate mailing address is at 2200 Mission College Boulevard, Santa Clara, California 95054-1549, United Kingdom. This is best for individuals who prefer traditional contact methods such as the post.
Individuals who are looking for a more direct way to get in touch with the company can dial +1-408-765-8080. Keep in mind that Intel operates within the standard business hours in California, so its lines will be available only on business days during its operating hours.
 just navigate to the Contact Us page, then click More Ways to Contact Us. Go to General Questions and Select Company Questions. Fill out the required fields in the contact form including your contact name, email address, country or region, and reason for contact.
You also need to indicate the subject of your communications and provide a description of your query. Your message will be delivered to the support team and you will get a reply via email.
You can also send an email to its Investor Relations department at [email protected].
Individuals can also get in touch with Intel through the live chat feature which can be found on its website. To initiate contact, click on the Sign In button at the top right corner, then scroll to the Contact Intel section.
Click on Chat now under Chat to go to the customer support page. Select Live Support Chat to start.
The company also has verified accounts on various social media platforms. You can try getting in touch with the team by sending them direct messages via Facebook, Twitter, or Instagram.
Who Is the Intel President?
Intel is under the leadership of Patrick Gelsinger, who also serves as the Chief Executive Officer and a board member. He was with Intel for 30 years since 1979 and even worked as the company's very first chief technology officer, senior vice president, and general manager of the Digital Enterprise Group.
He left Intel to spend some time serving as VMware CEO. Upon his return to Intel in February 2021, Gelsinger has garnered recognition for his leadership, being named by Glassdoor as the best CEO in the United States back in 2019.
During his time at Intel, Gelsinger was able to pioneer some of the most important developments of the company in terms of its products and offers. He is the manager of the team that developed the USB and Wi-Fi technologies. He is also the mind behind the company's original first processors.
Intel CEO and Key Executive Team
Names
Designations
Patrick Gelsinger
President and Chief Executive Officer
David Zinsner
Chief Financial Officer
Christy Pambianchi
Executive Vice President and CPO
Keyvan Esfarjani
Executive Vice President; Chief Global Operations Officer General Manager, Manufacturing, Supply Chain and Operations
Christoph Schell
Executive Vice President; Chief Commercial Officer general Manager, Sales, Marketing, and Communications Group
Source: [newsroom.intel.com, intel.com]
FAQ's
How many Intel stores are there?
The company has 32 offices in the United States alone for a total of 173 locations. It also has a museum located in California. There are more than 500,000 retail sales associates all over the world.
Where are Intel employees located?
As a multinational company, Intel has a presence all over the world. Currently, it has around 121,000 employees all over the world, which is a significant increase compared to 2021 numbers which were at 110,600.
It has employees in Australia, Brazil, Canada, China, Costa Rica, France, Germany, Israel, Italy, India, Indonesia, Japan, Korea, Malaysia, Mexico, Philippines, Poland, Romania, Russia, Singapore, South Africa, Sweden, Taiwan, Turkey, United Arab Emirates, United Kingdom, United States, and Vietnam.
Where are Intel processors manufactured?
Intel has manufacturing facilities across the globe. It has sites in Oregon, Arizona, New Mexico, Ohia, Costa Rica, Ireland, Germany, Israel, Chengdu, Vietnam, and Malaysia. Six of these are wafer fabrication sites, while the remaining four are assembly or test sites.
Does Intel have offices in Israel?
Yes, Intel has officers in Israel, including a wafer fabrication manufacturing site. The company has locations in Haifa, Jerusalem, Netanya, Petah Tikva, Qiryat Gat, Raanana, Tel Aviv, and Yakum.
Conclusion
Intel is definitely one of the biggest semiconductor companies all over the world. With its sprawling headquarters and various locations across the globe, its presence will always be a strong force in the industry.