General Electric (GE) is one of the most recognizable conglomerates in the United States, and is a pioneer of modern technology. General Electric has been responsible for innovations from Thomas Edison's creation of the light-bulb and electric light, to experimental television broadcasts and gas turbines.
General Electric has been at the forefront of virtually every major technological development since its inception, and has been one of the major companies in the aviation industry since the Second World War.
General Electric on Map
| | Title | Category | Address | Description | Link | Address | Phone Number |
| --- | --- | --- | --- | --- | --- | --- | --- |
---
General Information
HQ:
5 Necco St, Boston, Massachusetts, United States
Zip Code:
02210
Phone number:
+16174433000
Traded as:
NYSE: GE
ISIN:
US3696041033
Industry:
Conglomerate
Founded:
April 15, 1892; in Schenectady, New York
Founders:
Charles A. Coffin
Elihu Thomson
Edwin J. Houston
J. P. Morgan
Thomas Edison
Products:
Aircraft engines, Electrical distribution, Electric motors, Energy, Finance, Health care, Lighting, Software, Wind turbines
Website:
www.ge.com
Business data:
Google Finance / Yahoo! Finance / SEC filings
What is General Electric?
General Electric, most popularly known by its initials GE, is an American based, multinational company that has operated for over 125 years. It was founded in 1889 by Thomas A. Edison, who is regarded as being America's greatest inventor and is responsible for creations such as the lightbulb and the first industrial research facility in the United States. General Electric's mission statement is to "rise to the challenge of building a world that works".
Their best-performing segments are now GE Aviation, Healthcare and Power; with their Aviation segment accumulating $32.88 billion in revenue in the full-year 2019.
What does General Electric do?
GE's work has historically focused on the Power, Renewable Energy, Aviation and Healthcare industries. Their portfolio has expanded to now include additive manufacturing, materials science and data analytics. General Electric is made up of five segments; Aviation, Capital, Healthcare, Power, and Renewable Energy. One of their main profiting-making divisions is Aviation, with GE developing commercial and military aircraft engines, and they are a major contractor for the United States military. In their Capital division, GE provides financial services, while their Renewable Energy segment focuses on renewable power, such as wind and water. Within their Healthcare segment, GE provides technologies for medical work such as medical imaging, patient monitoring, and drug discovery.
General Electric had previously owned a majority stake in the TV network NBCUniversal before selling their stake to Comcast in 2011. General Electric has been at the forefront of innovate technology since its inception, and "invented the future of industry" within aviation, healthcare and power.
Where is General Electric headquarters located?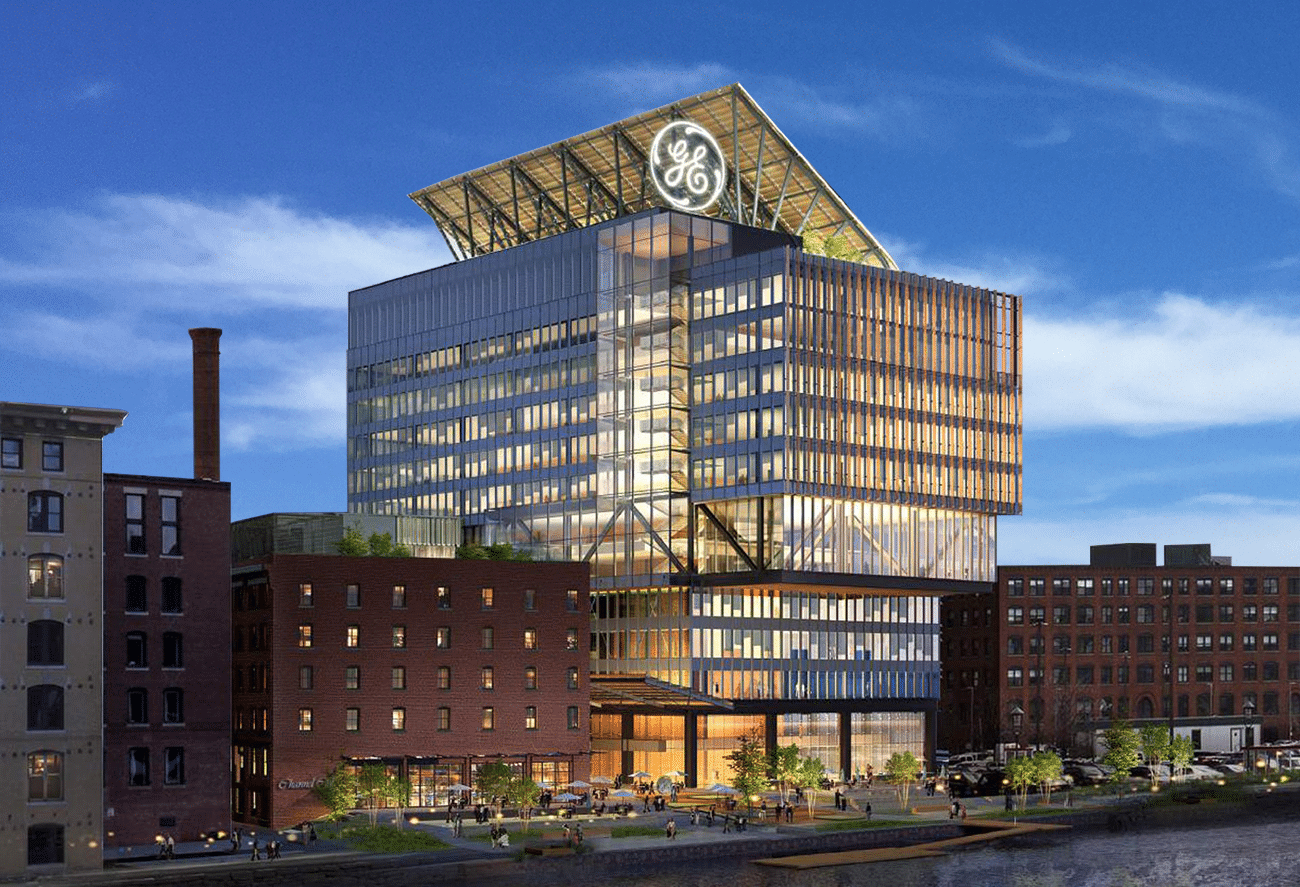 GE locations can be found across the United States, and the headquarters of General Electric are in Boston, Massachusetts in the United States. General Electric previously had their headquarters at Fairfield, Connecticut, before moving to Boston in 2016.
How do I contact General Electric corporate?
General Electric's headquarters in Boston can be contacted at +001 877 394 9775. GE's website includes an extensive contact us to direct your inquiry to the correct department within GE's corporate division.
History of General Electric
General Electric began in 1889 as the 'Edison General Electric Company', which was the result of a merger between Drexel, Morgan & Co and several electricity companies that Thomas A. Edison had interests in. Thomas A. Edison, is considered to be America's greatest inventor, having created over 1,000 patents for his inventions, including such creations as the the phonograph, the lightbulb and the carbon microphone.
'General Electric' as it is known today was formed after the 1892 merger of the 'Edison General Electric Company', and the 'Thomson-Houston Electric Company' with the backing of Drexel, Morgan & Co. General Electric was incorporated in New York, with the plant in Schenectady County in New York acting as the company's headquarters. General Electric grew along with the boom of industrial America in the early 1900s.
Since its inception, General Electric has been responsible for the creation of innovative technology across all their segments. In 1896, it created the electrical equipment for x-rays, along with the portable x-ray unit that could be used during the first World War. General Electric has also been involved with the development of new age media, for the voice radio broadcast in 1906 and later the first home television test sets. As part of its long manufacturing history, General Electric has been responsible for the development of major home electrical appliances, including the washing machine for which they developed the motor for. In the 1940s GE was responsible for the development of commercial silicone and moldable plastic, and were extremely active in the early aviation industry. In 1941, General Electric built the I-A, which was first US jet engine and in 1949 they developed the J-47 jet engine.
During the 50s, General Electric became involved in commercial nuclear power and in the 70s began developing medical devices which has continued through the present day. In 2000, it created the first 4-D high-res ultrasound machine for women's health.
Always at the forefront of innovation, General Electric has been involved with the broadcasting industry since 1926, when its company Radio Corporation of America founded NBC. For several decades there was a period of absence for General Electric from NBC before it was bought by GE in 1986 under the leadership of CEO Jack Welch. The network enjoyed success throughout the 1990s but they failed to capitalise on the reality television boom and GE later sold NBC/Universal to Comcast in 2009 in a deal worth $30 billion.
Since 2012, it has also been a major player with developing hydroelectric power, with their hydro turbines and generators making up more than 25% of the systems installed globally.
General Electric's fortunates turned following Jack Welch's retirement as CEO after he turned the company from a market value of $12 billion in 1981 to $410 billion at its peak, and it suffered greatly as a result of the 2008 financial crisis. In 2008, GE stocks fell 42% and GE Capital virtually collapsed, and is still yet to fully recover. As a result, Welch's replacement as CEO, Jeffrey R. Immelt sold off several GE assets including NBCUniversal and brought GE back to its manufacturing roots and away from the financial service industry.
General Electric Founders and Key Executives
| | |
| --- | --- |
| Name | Title |
| Mr. H. Lawrence Culp Jr. | Chairman & CEO |
| Mr. L. Kevin Cox | Sr. VP & Chief HR Officer |
| Mr. Russell T. Stokes | Sr. VP & Chief HR Officer |
| Ms. Carolina Dybeck Happe | Sr. VP & CFO |
| Mr. Thomas S. Timko |  VP, Controller & Chief Accounting Officer |
Along with Thomas A. Edison, General Electric was also founded by Charles A. Coffin, Elihu Thomson, Edwin J. Houston and J.P Morgan.
General Electric's current CEO is H. Lawrence Culp Jr, who became the company's CEO in October 2018 and has begun to take GE through a multi-year turnaround. Out of the other ten previous CEOs, the most notable was Jack Welch, who held the position between 1981 and 2001. During Welch's tender, the market value of GE accelerated from $12 billion in 1981 to a record $410 billion before his retirement.
What is General Electric 's business strategy?
General Electric's business strategy is focused on competitive advantage, and they have a richly diversified portfolio of segments. General Electric claims that it "brings to market innovative solutions that deliver essential energy, healthcare and transportation infrastructure". As a company with innovation and manufacturing at its heart, General Electric has one of the highest number of patents of any company in the United States, and their research and development is a competent of their business strategy. By investing in their research, General Electric is able to focus on the manufacturing segments that made it one of the top 20 US companies.
Product development is their key business strategy, as seen in their renewable energy segment, where they have successful dominated the hydroelectric power industry globally with a 25% share of the hydro-electric power systems that have been installed globally.
How Does General Electric Make Money?
General Electric makes it profit through its five segments, which amounted to $95 billion USD of profit in 2019, with the majority coming from their power and aviation divisions. GE is a major contractor for the United States military and claims to power more than two-thirds of US military fights and helicopters, and GE have been involved with providing aviation development to the U.S. military since World War Two.
The GE subsidiaries include:

GE Additive, GE Aviation, GE Capital, GE Digital, GE Global Research, GE Hitachi Nuclear Energy, GE Healthcare, GE Power, GE Renewable Energy and GE Ventures.
General Electric's 4 Most Profitable Lines of Business
The four most profitable lines of business for General Election are their Power, Aviation, Healthcare and Renewable Energy divisions.
Power
In 2019's third quarter, GE's power segment's revenue was reported as $3.9 billion. While this is a decline of 14% year-on-year, the power division of GE is at the heart of a multi-year turnaround plan within the General Electric company.
Aviation
The aviation segment in GE is one of their fastest-growing divisions, with revenue increasing by 8% in 2019's third quarter, amounting to $8.1 billion. The primary driver of this success was the sales in GE's LEAP unit, with 455 commercial jet engine sold in that quarter, an increase of almost 300% from the previous year. Increased productivity has resulted in the average assembly time for engines being reduced by 36% through the use of digital enhancements.
Healthcare
GE locations within their healthcare division are spread out globally across five continents. It is another of the better performing GE divisions, with revenue of $4.9 billion in 2019's third quarter, an increase of 5% from the same quarter in 2019.
Renewable Energy
An area of increasing growth within General Electric, their renewable energy division saw its revenue hit $4.4 billion, up 13% over the year. In 2019's third quarter, GE reported a 30% increase in orders within their renewable energy division.
Top 5 Companies Owned by GE
As a parent company, GE owns several business segments and companies. Their top 5 companies include:
GE Aviation; one of the most profitable companies owned by GE, it manufactures jet engines and designs aviation software.
GE Healthcare; founded in 1994 and a leader in manufacturing healthcare technology
GE Power; the largest company owned by GE, it generates power through both renewable energy such as wind and water, as well as through oil and gas.
Baker Hughes; GE are the majority stakeholder in the company which is one of the world's largest oil field service companies
GE Renewable Energy; with headquarters in France, it focuses on wind, hydro, solar and hybrid power solutions.
Top 5 biggest General Electric Competitors or Alternatives
1. Siemens
This German conglomerate is a contemporary of General Electric and is the largest industrial manufacturing company in Europe. Similarly to GE, its main divisions include Energy, Healthcare and Infrastructure. Siemens operates globally in over 190 countries, and is considered to be GE's principal competitor.
2. 3M
A fellow American conglomerate, established in 1902, 3M's divisions include health care and consumer goods. It operates on a smaller global scale, in 65 countries.
3. Honeywell
American publicly traded, multinational conglomerate headquartered in Charlotte, North Carolina. It primarily operates in four areas of business: Aerospace, Building technologies, Performance Materials & Technologies (PMT), and Safety & Productivity Solutions (SPS).
4. Emerson
Another American conglomerate, Emerson was established in 1890 and their work ranges from commercial services to industrial products.
5. Philips
An internationally recognised conglomerate with headquarters in the Netherlands, Philips is one of the most recognisable electronics companies with a global operations. It is primarily a competitor to GE in the healthcare sector, as Philips has two healthcare divisions; Consumer Health and Wellbeing and Philips Professional Healthcare.
FAQs about General Electric:
1. What is General Electric known for?
General Electric is known for being one of the top 20 companies in the United States and is responsible for major technological innovates in the fields of power, aviation and healthcare.
2. When did General Electric go public?
General Election was one of the first 12 companies that were listed on the Dow Jones when it was formed in 1896, seven years after GE was founded. It was the only one of the original twelve to still be trading on the Dow Jones under its original name until it fell off the Index in 2018.
3. Where is the Central location of General Electric?
GE locations can be found across the world, and their main headquarters are located in Boston, Massachusetts.
4. How do I get a job at General Electric?
Every year, General Electric hires over 9,000 new staff in the United States with positions ranging from internships to senior management, and have hundreds of job vacancies on their website globally at any time.
They regularly attend careers events at college campuses and send delegates to professional conferences. Internships and graduate schemes are the best way to get into the company, and one third of GE's senior management team started their careers through the graduate development programmes. General Electric's internships are paid and are a gateway to a full-time job or taking part in a leadership program at GE.
The majority of positions at GE require a degree in a subject such as business, engineering or another relevant field, but some entry positions do not have a degree requirement.
5. Is General Electric Stock a good long term investment up to 2030?
There is a lot of conversation around whether GE stocks are a worthwhile investment for the future. General Election is currently in the beginning stages of a multi-year turnaround, but in September 2019 GE stocks were worth less than a sixth of what they were in early 2000.
Since H. Lawrence Culp Jr. took over as CEO of GE, the fortunes of the company appeared to be on the up with GE stocks increasing in value steadily from late 2019, peaking at $13.16 just before initial impact of the Coronavirus pandemic. By September, GE stocks have dropped once more to $6.76, primarily as a result of the fact that one of GE's major industries is aviation which has taken a major hit from the pandemic.
GE stocks have suffered a 50% decline since the start of 2020.
GE stocks were once a valuable long term investment, as the company was the most valuable in the world in August 2000, with their market capitalization worth over $600 billion. However, in 2018 it was removed from the Dow Jones Index after fall of 55% year-on-year, and was replaced by Walgreens Boots Alliance.
With this all in mind, Forbes are recommending GE stocks as being a worthwhile long term investment as they view the stock as currently being undervalued. With aviation making up one-third of GE's revenue, and the industry gradually opening up again post-lockdown, the company valuation could be re-examined. With markets gradually returning, and having had a pre-Coronavirus positive growth, buying GE stocks now at their current value could prove to be a good long term investment.
GE's CEO recently told Morgan Stanley's annual conference that they expect to have positive free cash flow in the second half of 2020, which has resulted in a positive jump in GE stocks.
As Yahoo!Finance put it in 2019, "no one is buying General Electric for what it is now but rather for what it could become in a few years".
6. Does General Electric pay dividends?
GE stocks pay an annual dividend of $0.04 per share, with a dividend yield of 0.66%. Each year, GE pays out an average 6.15% of their earnings as dividends. The yearly dividend that GE pays its stockholders was slashed as a result of the 2008 financial crisis and fell from $1.24 to $0.82 in 2009. GE stocks quarterly dividend was also sharply cut in 2018 from $0.12 to $0.01 per share.
7. Who is General Electric 's auditor?
For over 110 years, KPMG has been the auditor for General Electrics. In June, it was announced that Deloitte would take over from KPMG in 2021.
While conglomerates changing their independent auditors is unusual, the news did not come as a surprise to the financial industry as the relationship between KPMG and GE had become estranged over financial troubles that have occurred within GE.
8. Are general electric and general motors related?
There is no relation between Genera Electric and General Motors, which was founded in 1908 and has several automobile divisions including Cadillac and Chevrolet.
Key Takeaways:
General Election is currently trying to turn their fortunes around after several years of falling revenue. Under the leadership of their current CEO, GE stocks are now considered to be a worth while long-term investment as their Power and Aviation divisions are continuing to lift GE's profit margins, and even with the impact of Coronavirus on its most profitable segment, the company is predicted to end the second half of the year with positive free cash flow.