Where is Facebook Headquarters on Map?
| | Title | Category | Address | Description | Link | Address | Phone Number |
| --- | --- | --- | --- | --- | --- | --- | --- |
---
The race for the most popular social media platform includes amazingly notorious names such as LinkedIn, Instagram, and Pinterest. However, with over 2.5 billion monthly active users, Facebook is definitely a noteworthy competitor.
Besides an incredibly high number of unique registered users, this platform also includes a handful of features that turn usual virtual interaction into an amazing experience. But what makes Facebook such an important name in the competition for the supreme social media platform?
Now that you have some brief understanding of Facebook, let's jump in and deepen your knowledge about this worldwide-popular social media platform that took over the Internet.
Company Information
HQ:
1 Hacker Way, Menlo Park, California, USA
Zip Code:
94025
Traded as
NASDAQ: FB
ISIN
NL0009434992
Industry
Social media and Advertising
Founded
February 4, 2004 in Cambridge, Massachusetts
Founders
Mark Zuckerberg
Eduardo Saverin
Andrew McCollum
Dustin Moskovitz
Chris Hughes
Products
Facebook, Instagram, Messenger, WhatsApp, Watch, Portal, Oculus and Calibra
Website:
about.fb.com
What is Facebook?
Facebook is a social network that helps you connect with a lot of people from all over the world. Whether you want to connect with someone you have not seen for a long time, or you simply want to see how your friend's, colleague's, and family's life is, Facebook is the ideal method to stay in contact with your community. On this platform, you can share photos, post status updates, and send messages.
Facebook also allows you to like or react with different emotions to others' posts and links, which helps you interact with your friends. Besides that, it is one of the few platforms which are free to use.
Where is Facebook headquarters located?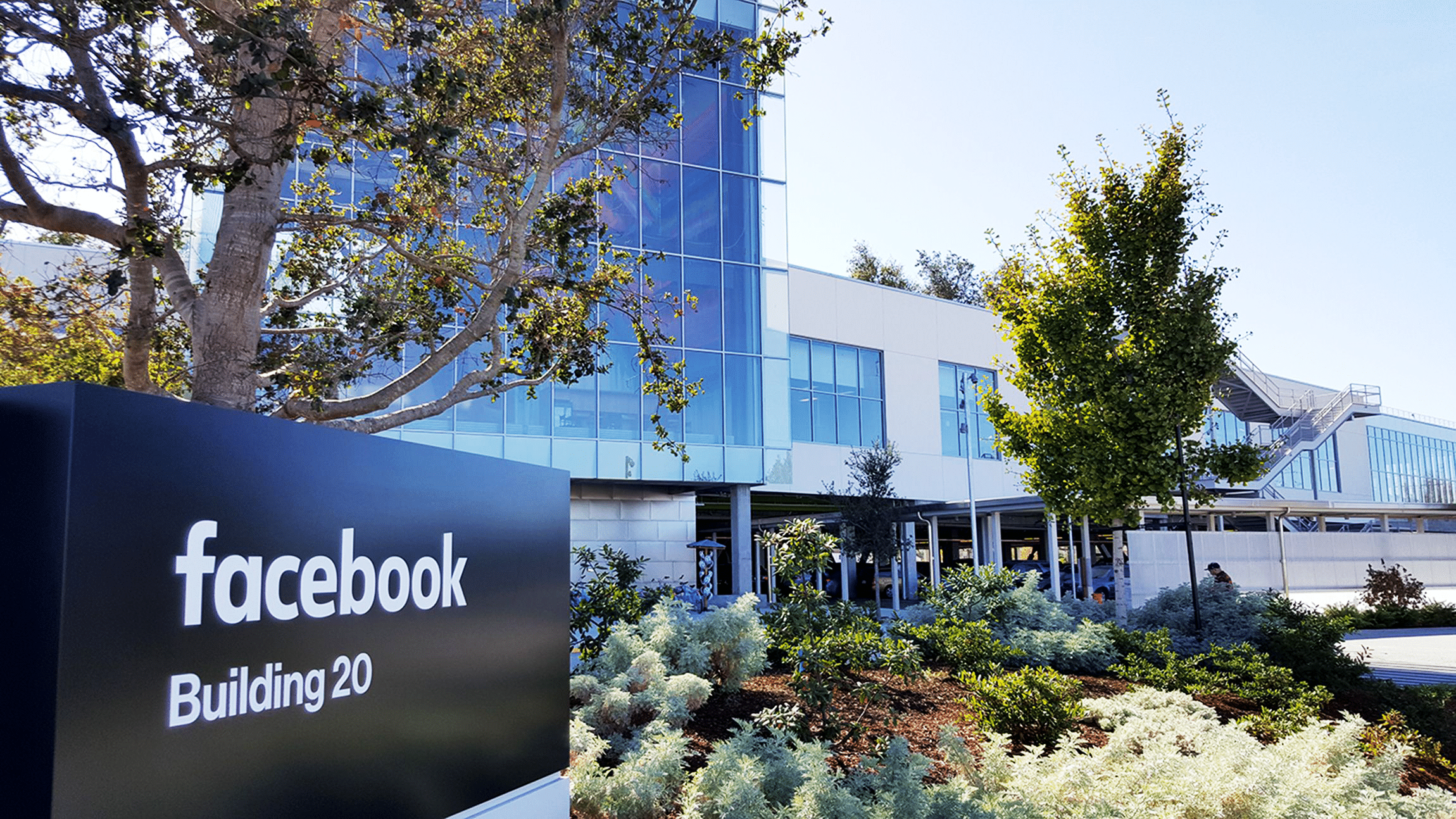 Facebook offices is located in California, Menlo Park, but it has 85 locations across 35 countries. The most important Facebook locations are in Cambridge, Hyderabad, Dublin, and Austin (Texas). Moreover, California is the state where Mark Zuckerberg, the co-founder of Facebook, rented a small house that served as an office for the first time. The headquarters can't be visited unless you know someone who works there, but you can make a stop on the campus to take a quick picture.
Contact Number
Trying to find a way to contact Facebook for issues with your record or different issues can be troublesome, as the organization doesn't show up any contact numbers for client service. There are various email addresses you can use to try to contact Facebook, yet the reactions can be moderate and aren't guaranteed.
How do I contact Facebook corporate?
Facebook has a lot of methods through which you can contact them, such as email contacts ([email protected] and [email protected]) and its Help Center which has improved in the last years.
Phone Number: 1-650-543-4800 | Website: investor.fb.com / www.facebook.com
Office careers locations: www.facebook.com/careers/locations/
History of Facebook
This social networking service was set in motion on February 4, 2004. By December 2005, the platform already had 6 million users. Later in 2007, Facebook had 100,000 business pages, allowing organizations to draw in likely clients and tell about themselves. Facebook went public in 2012 with a capitalization of $507.92 billion. From this moment, a series of important events began to happen, among which was the appearance of the well-known "like" button.
How did Facebook start?
At first, Facebook was called FacebookMash and it was launched in 2003. When Mark Zuckerberg wrote the software for this website, he was in the second year of college at Harvard University. FacebookMash was set up only for Harvard students and allowed them to compare women students and let them decide who was more gorgeous.
In the first hours, this app gained the interest of 450 users and it had 22,000 photo-views. Unfortunately, the site was shut down after a few days, by the Harvard administration, due to copyright and privacy violations.
List of Founders and Key Executives
| | |
| --- | --- |
| Name | Role |
| Mark Zuckerberg | Co-founder, Administrator, and Director Executive Officer |
| Sheryl Sandberg | Director Operating Officer |
| Mike Schroepfer | Director Technology Officer |
| David Wehner | Director of Financial Officer |
| Chris Cox | Director Product Officer |
| Alex Schultz | Director Marketing Officer |
| David Fischer | Director Revenue Officer |
| Jennifer Newstead | General Counsel |
| Maxine Williams | Director Diversity Officer |
| Erin Egan | Director Privacy Officer, Policy |
| Michel Protti | Director Privacy Officer, Product |
| Fidji Simo | Manager of Facebook App |
| Stan Chudnovsky | Manager of Messenger |
| Adam Mosseri | Manager of Instagram |
| Andrew 'Boz' Bosworth | Manager of Facebook Reality Labs |
| Karandeep Anand | Manager of Workplace |
| David Marcus | Manager of F2 (Facebook Financial) |
Top 5 Shareholders of Facebook
Facebook Company Profile
Facebook wins 3rd place in the Best Internet and Social Media Companies category, according to 2019 Vault Rankings. Also, if we take a look at the statistics, we can observe that 1,62 billion users visit the website daily. 88% of the users are on the platform because they want to stay in touch with family and friends.
It is widely known that Facebook is well-organized and is based on beliefs that are deeply held.
Give people a voice – Individuals have the right to be heard and to have a voice — in any event when that implies protecting the privilege of individuals we can't help contradicting.
Build Connection and Community – Our administrations help individuals interface, and when they're at their best, they band together people.
Serve Everyone – We work to make technology available to everybody, and our plan of action is advertisements so our administrations can be free.
Keep People Safe and Respect Privacy – We must encourage the best of what humans can do together by keeping people safe and forestalling hurt.
Promote Economic Opportunity – Our apparatuses make everything fair so organizations develop, make occupations, and reinforce the economy.
What is Facebook's business strategy?
Facebook is up to date with everything that happens in your life. As per your searches, the people you follow, the company knows exactly what people you like, the posts you liked, what lifestyle you lead, even how many children you have, and who your family is. Depending on all this, he shows you the right ads for you.
See also: Apple Inc. Headquarters, All Office Locations and Addresses
If you have a business, You can drive traffic from your site to your Facebook page. People who visit your site probably use Facebook. By allowing them to additionally associate with your business on Facebook, you'll have a higher possibility of turning them into customers.
How Does Facebook Make Money?
The main way in which Facebook makes money is by selling ad space on its many social media websites. Advertisers pay for promotions dependent on the number of impressions conveyed or the number of activities, for example, clicks, embraced by customers.
Moreover, Facebook purchased WhatsApp for $19 billion in 2014 and Instagram in 2012 for $1 billion. These were the largest earnings that the company has made in the last years.
In 2016, Facebook has made over 83% of the company promotion income, bringing in portable its greatest lucrative advanced instrument.
Top 5 Companies Owned by Facebook Inc.
Messenger
Messenger is the Facebook chat that helps you interact with your friends privately. In the beginning, it was included in the main Facebook app, but in August 2011 has launched an independent application, suitable for both IOS and Android.
LiveRail
LiveRail is a company from San Francisco, USA. It belongs to the field of video advertising technologies on the Internet and it was bought by Facebook in 2014 for 400-500 million dollars.
Giphy
Giphy is an online search engine that allows users to search for and share small repetitive videos that have no sound. On May 15, 2020, this company was acquired by Facebook for $ 400 million.
Tuned
Tuned is an application owned by Facebook, specially created for couples. They can express their love in a creative and totally private way.
Aux
Facebook and the NPE team have launched an application for Canadian teens and young people. Through this application, you can listen to music, but it is available only on IOS devices. In the first months after its release, Aux had only 500 downloads. However, it has great potential.
Top 10 Facebook Acquisitions of All-Time
Being such a notorious company that enjoys plenty of shareholders and development potential, Facebook did not hesitate on buying different other businesses over time. Below you will find a list including 10 of the biggest Facebook acquisitions of all-time.
10. Parakey
Parakey was a small business back in 2007 when Facebook decided to buy all their stocks and assimilate the company. The actual focus was on the rising talents that had previously founded Parakey. Its CEOs joined the Programming Development Department and have brought significant and helpful knowledge with them. This way, Facebook managed to release some of its most popular Google-associated services, including Gmail, Docs, and Drive.
9. FriendFeed
Back in 2009, Facebook paid an undisclosed amount to buy all the stocks associated with the quite-popular social website. According to the investigations conducted by individual reporters, the social media giant paid around 15 million US dollars as well as 32 million in Facebook stocks. Not many people know that besides all the shares, all 12 employees that worked for FriendFeed were now moved to the Facebook Development Department.
8. FB.com Domain
Until November 2010, The American Farm Bureau Federation owned the fb.com internet domain. Planning a tremendously increased market reach, Facebook decided to buy it so that they will be able to use it for its URLs. The official cost of the fb.com domain was nearly 9 million US dollars, back in 2010.
7. Octazen Solutions
Just like Parakey, Octazen Solutions was a company founded by two programmers that were having amazing technical talents. This is why Facebook decided to buy all the shares associated with the Octazen company and assimilate the two previous-CEOs to their actual Programming Department.
6. DivvyShot
DivvyShot is the predecessor of nowadays service called Google Photos. Scouting the development of a photo-sharing method, Facebook hired all three employees that were working for DivvyShot and asked them to work on a new and revolutionary photo-sharing app. The total cost of the transaction is still unknown, but trusty voices say that shares cost only around 5 million US dollars.
5. Beluga
This was a mobile messaging application that later evolved into the new and more popular Facebook Messenger. After buying all the stocks associated with Beluga, Facebook enjoyed the expertise of programmers and developers that were formerly-hired by other notorious companies, including Google.
4. Oculus VR
2014 was a very important year for the development of Facebook. It was the year when they bought the entire Oculus VR company. At that moment, it was one of the most important companies that were dealing with virtual reality issues. The expected outcome of this transaction was to create new and incredible VR and AR experiences (including gaming and social interactions).
3. Face
Facial recognition is a subject that is quite popular these days. Facebook preempted the eventual advantages of such technology back in time when they bought all the stocks of the Face.com company. It was an Israeli-based business that developed one of the most advanced technologies.
This is the base of the Suggested Tags feature that is available on Facebook and which suggests you tag certain people when they appear in your photos.
2. Instagram
Being one of the most important photo-sharing-based social media platforms, Instagram enjoys more than 100 million unique monthly users. That is why Facebook decided to buy all the shares associated with this Internet giant. Back in the days when Instagram was the latest Facebook acquisition, it was also the biggest. Nowadays, things have changed.
1. Whatsapp
Everyone loves instant messaging apps. Whatsapp is the one with the most active users around the world and this is one of the reasons that made Facebook CEOs pay 22 billion US dollars on buying the entire company.
Although there was no actual profit expected from the increased number of active users, the heads of Facebook still decided it's a great idea to take over the most popular instant messaging service available on the market.
Top 5 Biggest Facebook Competitors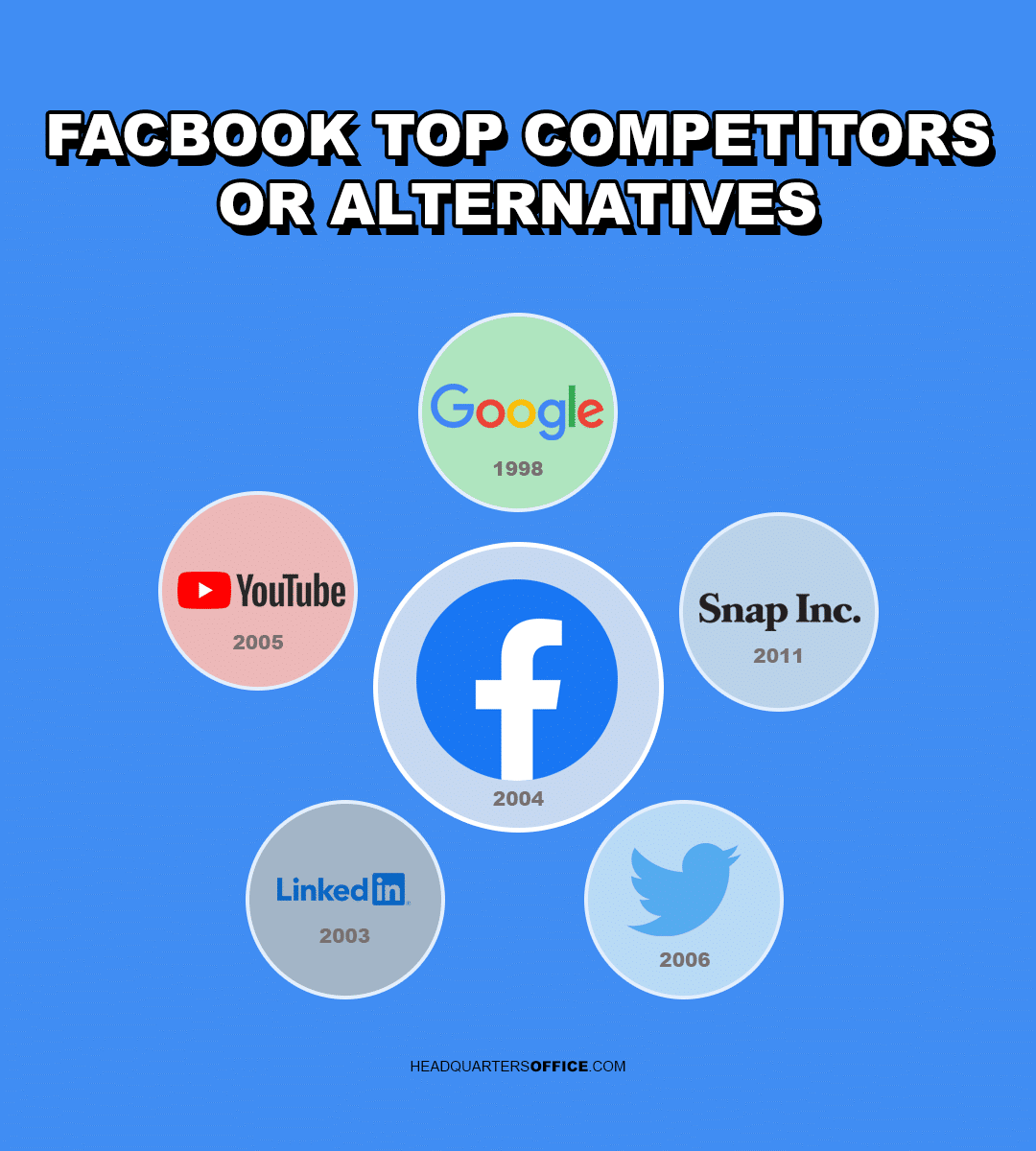 Just like any other company on the market, Facebook has some serious competitors that are currently putting their best effort into gaining more and more interest in the digital environment. Let's see which are the most important businesses that threaten Facebook's virtual supremacy.
Google
Being one of the most popular search engines around the world, Google gained a tremendous number of new users when they have launched additional services. The list of the most popular apps released by this company includes Google Drive, Google Docs, and Google Photos.
Snap Inc.
Snapchat is one of the most popular mobile apps designed for the sharing of photos between acquaintances. It was originally released by Snap Inc., an American company creating media solutions for both teenagers and other businesses.
Twitter
Twitter is another well-known social media platform. However, it was originally designed for more formal interactions. People use this website to follow public persons' activity and to stay in touch with the most important news released by their favorite companies.
LinkedIn
Just like Twitter, LinkedIn is a formally-oriented social media platform. Although it allows you to connect with your family and friends, people using LinkedIn are most likely to seek a new job. It can also be successfully used by freelancers trying to contact new customers and by agencies promoting their services.
YouTube
YouTube is definitely the most popular video streaming platform that is available on the internet. According to the latest statistics, every second, 90 hours of video content is uploaded on its servers. This way, people have an unlimited amount of content they can watch. And this is one of the most important assets of YouTube.
Where Will Facebook Be in 10 Years?
Considering the increased usage of technology nowadays, Facebook is most likely to increase its overall value as a social media platform in 10 years.
At least that is what statistics reveal, taking into account the growing number of users that are interested in creating an account on a well-developed yet widely-used app.
The growing tendency can also be seen in their stocks' value. The price of a Facebook stock has increased significantly since they have joined the battle for the most popular social media platform.
Benefits of Facebook for business
Having a Facebook page for your business is a huge opportunity. First of all, you can reach millions of potential customers. Also, compared to other websites, opening a page of Facebook costs you $0. If you want, additionally, you can pay an artist to design your profile and cover photos. Analyzing the price you pay for a traditional print or TV ad, Facebook ads are cheaper.
Your Facebook page is where you can promote your business name, address, and contact details, and quickly portray your items and administrations. You can likewise discuss your staff, history, or some other part of your business that is probably going to draw in other Facebook clients and make interest in what you do.
Just as allowing you to post content, Facebook lets you transfer pictures and recordings from your business. This can be an amazing method to speak with customers and possible clients, allowing them to see your catalog or contact the administration without visiting your premises.
Facebook allows its users to Tag other users in their photos. This tool can be utilized to improve your business.
You can use Facebook to chat with existing and expected clients by posting and accepting messages. You'll have a lot better progress if you share data identified with your business that is really valuable or intriguing to different clients. This expands your believability and advances your business by building long haul associations with different clients. For instance, a veterinarian could post tips for caring for pets, timing them as indicated by when specific medical problems emerge (for example ticks in summer).
Clients can post after-deals inquiries on your Facebook, and your staff can answer them there. This is frequently more effective than staff noting calls and permits different clients to see usual questions and answers without moving toward you exclusively.
Most Ask Questions about Facebook
When did Facebook go public?
On February 4, 2012, Facebook went public.
Where is the Central location of Facebook
Facebook is located in Menlo Park, California, and it has 85 offices. There are Facebook locations across 35 states.
How do I get a job at Facebook?
You can apply on the web or a friend can recommend you. On the off chance that you are an expert with an extraordinary LinkedIn profile, odds are selection representatives discover you on the platform. Understudies can take advantage of the amazing temporary job lucky breaks. Facebook openings for work are massive.
Also, there are a lot of Facebook temporary jobs. Assistants at Facebook can make $8,000 every month; separately they will get $96,000 per one year of an entry-level position. Comparably, the normal compensation of a full-time worker in the USA is $51,350 every year or $4, 280 every month.
Does Facebook pay dividends?
Facebook doesn't pay dividends. If the organization starts a profit payout, we'll add their payout information and history here. Meanwhile, you can check our list of High Yield Dividend Stocks.
Who is Facebook's auditor
Ernst & Young LLP is Facebook's independent auditor.
What does Facebook Portal do?
Since its beginning a year ago, Facebook Portal generally lets you video talk with your Facebook friends. The unit sits on a work area or table or close to your television, and the camera chases after as you walk, so you can converse with somebody totally without hands while doing different things.
Most Recent Annual Report
Image Source: depositphotos.com
You'll also like:
FedEx Headquarters
Telus Headquarters
Xerox Headquarters
StockX Headquarters
Nationwide Mutual Insurance Headquarters
RSA Insurance Group Headquarters
Bloomberg Headquarters
Uber Headquarters
Amazon Headquarters
Walmart Headquarters