eBay Inc. is an online trading and auction company that was founded by Pierre Omidyar, an American entrepreneur in 1995. eBay was one of the first organizations to create an online means for sellers to meet with buyers and exchange their goods or services for money. It is one of the leaders of e-commerce globally, and the company has its headquarters in San Jose, California.
A large bulk of the sales on eBay come from auctions, although sales with fixed prices also have a large share of transactions. eBay is well regarded for its provision of safe, transparent trading measures that are accessible to a large number of people around the world. This company mainly relies on the buyers and sellers that utilize the website for the regulation of the trading community.
eBay Inc. on Map

| | Title | Category | Address | Description | Link | Address | Phone Number |
| --- | --- | --- | --- | --- | --- | --- | --- |
---
General Information
Where is eBay Inc. Headquarters located?
The eBay headquarters is located at 2025 Hamilton Avenue, San Jose, California, USA. eBay has a total of 46 office locations in 26 different countries. You can contact eBay corporate by calling one of their phone numbers (1-866-961-9253 or 1-866-961-9253).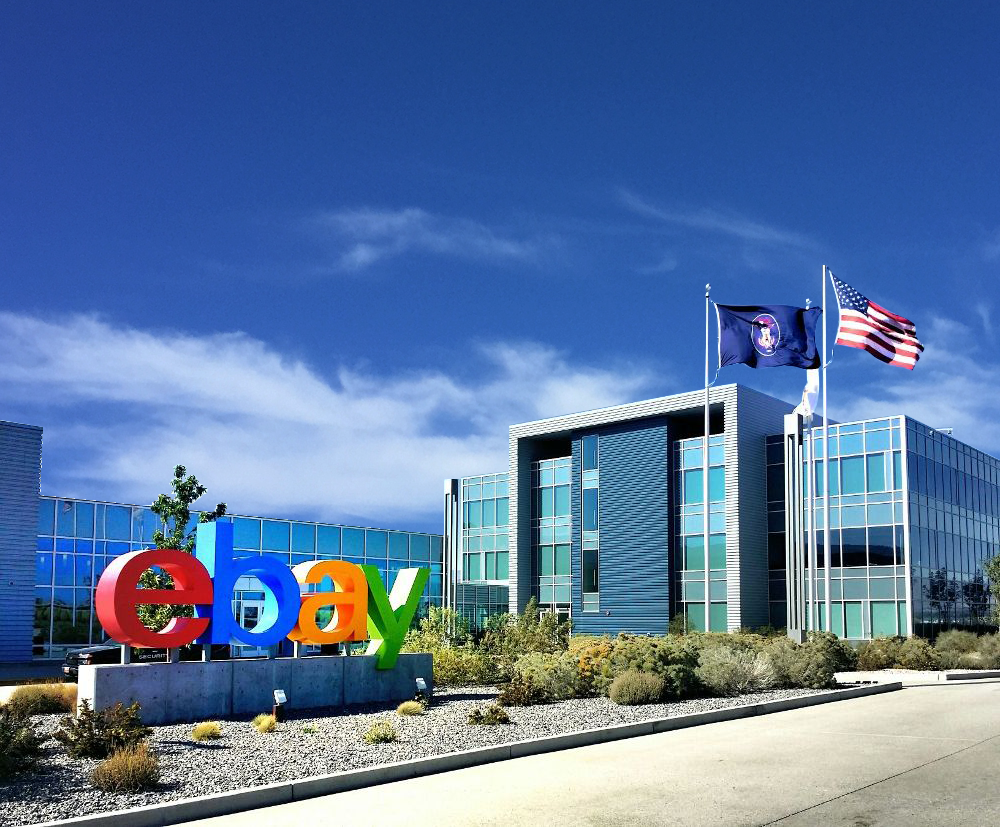 How do I contact eBay corporate?
Contacting eBay and their customer service is fairly easy and there are a few methods you can try. They have a telephone number for customer service (1-866-540-3229) as well as a telephone number designated for fraud detection (1-866-643-1607). The waits for these numbers are usually between 3-10 minutes.
How do I contact eBay customer support?
If you go to the eBay website, you can contact the customer support using the "contact us" option. They will offer you several ways you can try to resolve any issue you're facing.
Does eBay have a live chat?
Yes, eBay has a live online technical support system that you can use to chat directly to their customer service online. You can access this feature through their website.
eBay inc. History
Some stories say that Pierre Omidyar came up with the idea for eBay while he was trying to get rid of his wife's collection of Pez candy dispensers. However, the true story was that he had been interested in the possibility of a far-reaching online trading platform, and his vision came to fruition on the 3rd of September, 1995.
Initially, eBay was nothing more than a hobby to Omidyar, but the number of buyers and sellers on his site grew substantially to a point where his internet service provider said he had to switch to a business account. After his switch to an internet business account, his monthly internet bill multiplied almost ten times, and this caused him to charge the users of eBay to perform transactions on the website.
eBay grew swiftly into a multi-million dollar, and the site began to host million-dollar auction transactions. In 1998, Meg Whitman took over as the CEO of eBay, and she led the company to a public listing with the eBay stock price of the company standing at $18. On the very first day of trading, the stock price jumped to $53 and this made Pierre Omidyar a billionaire.
From then on, eBay continued to seek new ways to make its digital consumer site model much more efficient. It became the main website for people to buy and sell almost anything apart from illegal or offensive products like drugs, guns, alcohol, and Nazi paraphernalia.
Company Profile
eBay corporate is currently registered as an e-commerce company. The company works through their online marketplace as well as a couple of local offices including places in Japan, Turkey, and South Korea.
Their services and technologies have been specifically designed to give buyers a wide range of options to choose from as well as allow the sellers to offer the products and services to a large audience anytime and anywhere.
eBay Inc. CEO and Key Executive Team
Name
Designation
Jamie Iannone
President, Chief Executive Officer & Director
Stephen J. Priest
Chief Financial Officer & Senior Vice President
Mazen Rawashdeh
Chief Technology Officer & Senior Vice President
Molly Finn
Chief Compliance Officer & Vice President
Marie Oh Huber
Secretary, Chief Legal Officer & Senior VP
Source: investors.ebayinc.com
Why is eBay so successful?
eBay has used the World Wide Web to develop a tight-knit trading community designed to bring buyers and sellers together in a way where the sellers list their products or services, and the buyers bid on the goods that interest them. The items are arranged into different categories to allow the buyers to easily find what they need.
eBay has created a great way to perform person-to-person trading, eliminating the need for buyers and sellers to go to flea markets, garage sales, and the likes. Bidding or browsing on the website is designed to be free, although the sellers are charged in a couple of ways:
A product that is listed on eBay has a nonrefundable Insertion fee that usually ranges from 30 cents to $3.30 depending on the opening bid of the seller on the product.
Additional listing options that are used to promote the product also attract a fee.
At the end of the seller's auction, a final value fee that usually ranges from 1.25% to 5% is charged.
Top 5 biggest eBay Inc. competitors or Alternative
1. Amazon
Amazon inc. is a retail store that operates online, offering its services to entrepreneurs, sellers, and buyers from all around the world. Its headquarters is in Seattle, WA and it was established in 1994.
Amazon is one of the biggest competitors of eBay because of its wide selection of products, the convenience it provides its customers, as well as good pricing.
2. Shopify
Shopify is a big online retail platform that employs thousands of people and has a revenue of almost a billion dollars. The company was founded in 2004, and it is based in Ottawa, Canada.
Shopify is a fast-growing enterprise, and it offers great services in terms of a wide variety of high-quality products to its customers.
3. Walmart
This is a retail store outlet that has branches in several countries around the world. It is primarily based in the United States and is owned by the Walton family.
Walmart employs over 2 million people, and it is not a direct competitor of eBay because it performs a majority of its services offline.
However, Walmart is gradually growing its online presence and could soon become one of the biggest online trading communities in the world.
4. Facebook
Facebook Marketplace was established in 2016 and it brings together millions of buyers and sellers on the Facebook platform, which is one of the biggest social networks in the world.
It utilizes Facebook Messenger so you can discuss directly with the seller over the product, price, delivery, and so on. It is a one-stop shop with a wide range of products available.
5. Best Buy
Best Buy was founded by Gary Smoliak and Richard Schulze in 1966 and it operates through multiple mediums. Best Buy is known for commercializing tech devices and being a retailer for high-quality technological products.
The company has over a thousand stores in the US, Mexico, and Canada, as well as an online platform.
SWOT analysis of eBay Inc.
eBay has several internal and external factors that are impacting its ability to expand and grow even more. Some of the brand's strengths include:
Its great reputation.
The high efficiency of eBay's service.
The cost-effectiveness of the company
Their region-specific operations.
eBay corporate also has its fair share of weaknesses that includes:
Its lack of flexibility to market changes.
Their business model can be imitated.
The lack of emphasis placed on innovations.
Apart from these internal factors affecting the growth of eBay, several strategic external factors also play a part in the success of the company. One of these factors is the opportunities available to the company, and these include:
The market being further diversified.
A significant increase in the rate of innovation.
Movement of operations into more markets.
Improving the quality of customer service.
However, eBay corporate also faces several threats from its strong competitors, and these include:
Imitating its business model and style.
Disrupting the industry through the creation of new technologies.
Stronger competition being established.
10 interesting facts about eBay
eBay was initially called Auction Web before the name was changed to Echo Bay by its founder and later shortened to its current name.
It is currently unknown how many items can be posted on the website simultaneously, although the current record is 800million items posted at the same time.
The first product that was sold on eBay was a broken laser printer which was sold by the company's founder himself to test the site's operation. It was sold for a bidding price of $14.83.
In 2006, there was a discovery of new life on the eBay website. The natural history museum noticed a rare sea urchin that someone posted, and it was later named Coelopleurus Exquistius.
Even NASA bought some products from eBay. They turned to eBay after discovering the need for some second-hand machinery.
Princess Beatrice's hat was auctioned on eBay to raise 80,000 Euros for UNICEF.
The most expensive item to ever be sold on eBay is a 405ft yacht that was sold for 170million dollars to Roman Abramovich, Russian billionaire and owner of Chelsea Football Club.
Because you can sell almost anything on eBay, there have been some extremely weird products placed on sales like a grilled cheese sandwich portrait of the Virgin Mary, the kidney stone of Willian Shatner, and even some hair strands from Justin Bieber.
Bridgeville, a town in California was sold in 2006 for 7million dollars. The landowner got eight houses, a small post office, and three cattle as profit.
eBay is widely popular around the world, but it is probably most popular in the UK where almost 20 million British people use the website in their daily lives.
Is buying eBay stocks a good long-term investment?
eBay Inc. currently shows a couple of negative signals, and it seems to be within a wide and falling trend. The popular belief is that eBay stock will perform weakly in the next few weeks, so they currently have a negative valuation of it. They currently evaluate this stock as a candidate for a sale.
FAQ's
When did eBay Inc. go public?
eBay went public in September 1998 when the shares were listed on NASDAQ under the symbol "EBAY". It was anticipated that the stock would trade at $18 but the stocks performed exceedingly well and reached $53.50 on the day they went public.
Does eBay Inc. pay dividends?
Yes, eBay pays dividends of $0.1800 per share, and they have paid dividends to their shareholders within the last three months.
Who is the auditor of eBay Inc?
The effectiveness of the internal control of eBay's financial reporting is audited by Pricewaterhouse Coopers LLP, which is an independent registered public accounting firm.
How much does eBay Inc. spend on R&D?
For the quarter ending on September 30, 2021, eBay spent 334million dollars on research and development. In the twelve months before September 30, 2021, eBay spent $1.33billion on research and development.
What hosting provider does eBay Inc. use?
eBay runs the majority of its large workload, which is its website, on an OpenStack private cloud platform that was designed by the organization.
Does eBay treat its employees better than Amazon?
On a survey that was performed based on the feedback from both eBay and Amazon employees, eBay ranked higher in terms of its benefits & compensation, culture & values, the balance between work & life, approval of the CEO, senior management, a positive business outlook, as well as on the overall rating. This survey was carried out on Glassdoor.com.
Are PayPal and eBay owned by the same company?
Back in 2002, eBay acquired PayPal, and the two large companies have been working together ever since.
Executive Summary
eBay not only make products more accessible to their buyers but also created a safe platform for people to sell their products. eBay is very safe, and they do their due diligence in ensuring that the products being sold are high-quality.
The company seems to only be on the rise with more and more people turning to online retail stores these days. It's easier, quicker, more stress-free, and it even tends to be more cost-effective than physical trading.