Where is Charles Schwab Headquarters on Map?
| | Title | Category | Address | Description | Link | Address | Phone Number |
| --- | --- | --- | --- | --- | --- | --- | --- |
---
Financial service companies are always the first in line of action when it comes to providing solutions, products and services to customers who are willing to have checking accounts and advice from financial advisers, high yield investor potentials and financial planners for such investments in a given situation. One of the most trustworthy and high-quality insurance companies and other services as well is the Charles Schwab Corporation.
Charles Schwab Corporation (regarded also as Charles Schwab Bank is a multinational corporation in the bank and brokerage field or industry. They are based in San Francisco, California, USA and were founded in 1971 by the man himself, Charles R. Schwab. The company made it on the list of largest banks in the United States and is one of the largest brokerage firms in USA. The company provides products and services for individuals and institutions alike that are into online investing.
General information
| | |
| --- | --- |
| HQ: | 3000 Schwab Way, Westlake, TX, United States |
| Zip Code: | 76262 |
| Traded as | NYSE: SCHW; S&P 500 Component |
| Subsidiaries | Schwab Holdings, Inc., Charles Schwab Bank, Charles Schwab Investment Management, Inc., Charles Schwab Futures, Inc., Charles Schwab Premier Bank, OptionsXpress, Schwab Performance Technologies, SoundView Technology Group, Charles Schwab Foundation, Charles Schwab Trust Bank, TD Ameritrade |
| Industry focused | Financial services |
| Founded in | April 1971, USA |
| Founder | Charles Schwab |
| Products | Banking and brokerage firm products and services |
| Website: | www.schwab.com |
Contact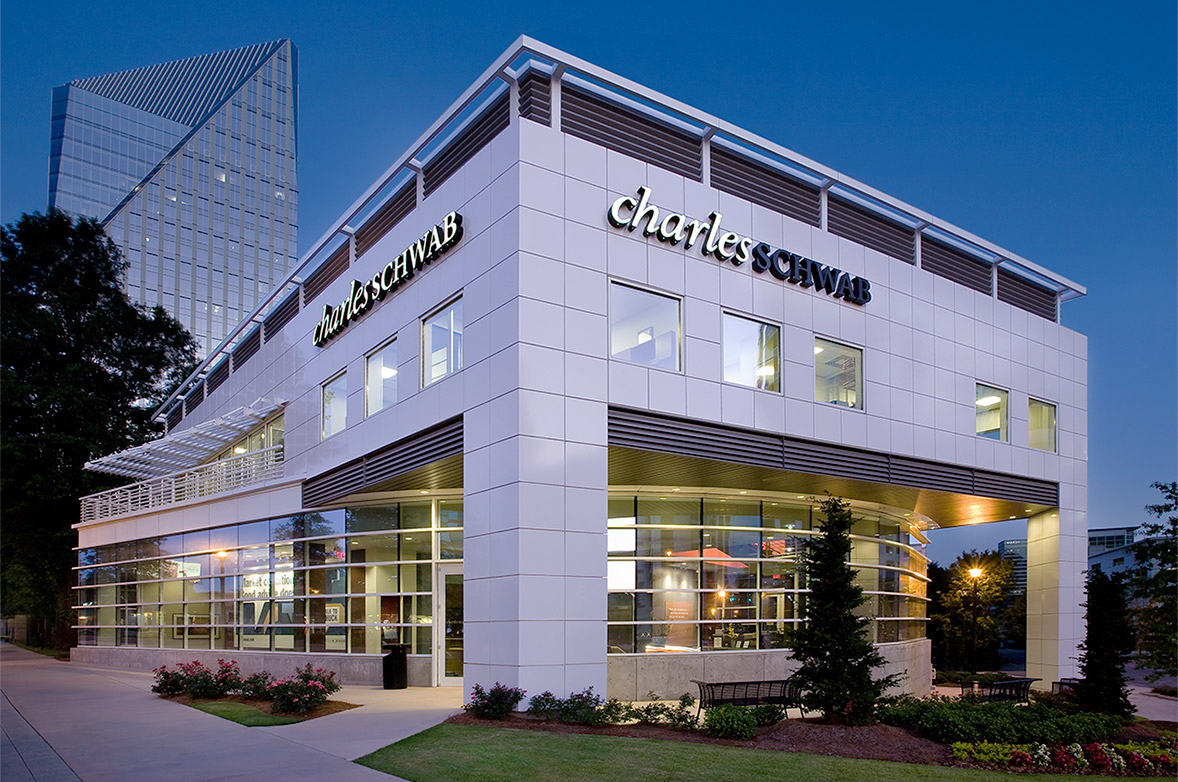 Key People/Executives for Charles Schwab Corporation
| | |
| --- | --- |
| Mr. Walter W. Bettinger II | Chief Exec. Officer, Pres and Director |
| Mr. Joseph R. Martinetto | Sr. Exec. VP |
| Mr. Bernard J. Clark | Exec. VP of Advisor Services |
| Ms. Marie A. Chandoha | Chief Executive Officer of Charles Schwab Investment Mgmt Inc and Pres of Charles Schwab Investment Mgmt Inc |
| Mr. Peter Crawford | Chief Financial Officer |
Charles Schwab Corporation Products/Capabilities
The Charles Schwab Corporation, through its subsidiaries, ensures the following core services:
Wealth management
Securities brokerage
Banking,
Asset management
Custody
Financial advisory services.
The company operates through two segments which are:
Investor Services – provides retail brokerage and banking services, retirement plan services, and other corporate brokerage services; and stock plan services, compliance solutions, and mutual fund clearing services, as well as engages in the off-platform sales business.
Advisor Services – provides custodial, trading, and support services; and retirement and corporate brokerage retirement services.
The company also provides the following products with certain packages:
Brokerage accounts with cash management capabilities
Third-party mutual funds through the mutual fund marketplace, including no-transaction fee mutual funds through the mutual fund onesource service, which includes mutual funds, plus mutual fund trading, and for broker-dealers' clearing.
Exchange-traded funds or etfs, including proprietary and third-party etfs
Advice solutions, such as managed portfolios of proprietary and 3rd-party mutual funds and etfs, independent accounts, customized personal advice for tailored portfolios, and specialized planning and portfolio management
Checking and savings accounts
Certificates of deposit
First lien residential real estate mortgage loans
Home equity loans and lines of credit
Pledged Asset Lines
Trust services comprising trust custody services, personal trust reporting services, and administrative trustee services.
What does Charles Schwab company do?
The Charles Schwab Corporation provides a full range of securities, brokerage, banking, money management, and financial advisory services through its operating subsidiaries. Its broker-dealer subsidiary, Charles Schwab & Co., Inc. ("Schwab"), Member SIPC, offers investment services and products, including Schwab brokerage accounts. Its banking subsidiary, Charles Schwab Bank (member FDIC and an Equal Housing Lender), provides deposit and lending services and products.
Schwab Advisor Services™ serves independent investment advisors and includes the custody, trading, and support services of Schwab. Independent investment advisors are not owned, affiliated with, or supervised by Schwab. Schwab Retirement Plan Services, Inc. provides recordkeeping and related services with respect to retirement plans.
YOU'll ALSO LIKE:
American Telephone and Telegraph Company Headquarters
Netflix Headquarters
Johnson & Johnson Headquarters Office
Snap Inc. Headquarters Office
Pfizer Inc. Headquarters
Alphabet Inc. Headquarters
Facebook, Inc. Headquarter
Alphabet Inc. Headquarters
Oracle Corporation Headquarters
Visa Inc. Headquarters