Bloomberg L. P. is an American technology company founded by Michael Bloomberg, Thomas Secunda, Duncan MacMillan, and Charles Zegar in 1981. Bloomberg L. P. is a very mature and successful company. They offer a wide variety of products and services. Some of the most famous ones include data management, financial software, research and analysis, private equity, electronic trading, and hedge funds, etcetera. The famous clients of Bloomberg L. P. are Bank of America, Morgan Stanley, Citi Group, and JP Morgan Chase.
Bloomberg on Map

| | Title | Category | Address | Description | Link | Address | Phone Number |
| --- | --- | --- | --- | --- | --- | --- | --- |
---
General Information
| | |
| --- | --- |
| Address: | 731 Lexington Ave, New York, New York, United States |
| Zip code: | 10022 |
| Type: | Private, limited partnership |
| Industry: | Technology, Financial technology, mass media |
| Founded: | October 1, 1981 |
| Website: | www.bloomberg.com |
What is Bloomberg company famous for?
Bloomberg L. P. is famous for the Bloomberg Terminals. It is a computer software provided by the company to analyze the real-time financial markets. Bloomberg Terminal is not only the reason for the company's fame, but it is also the reason behind the success of the company.
Where is Bloomberg headquarters located?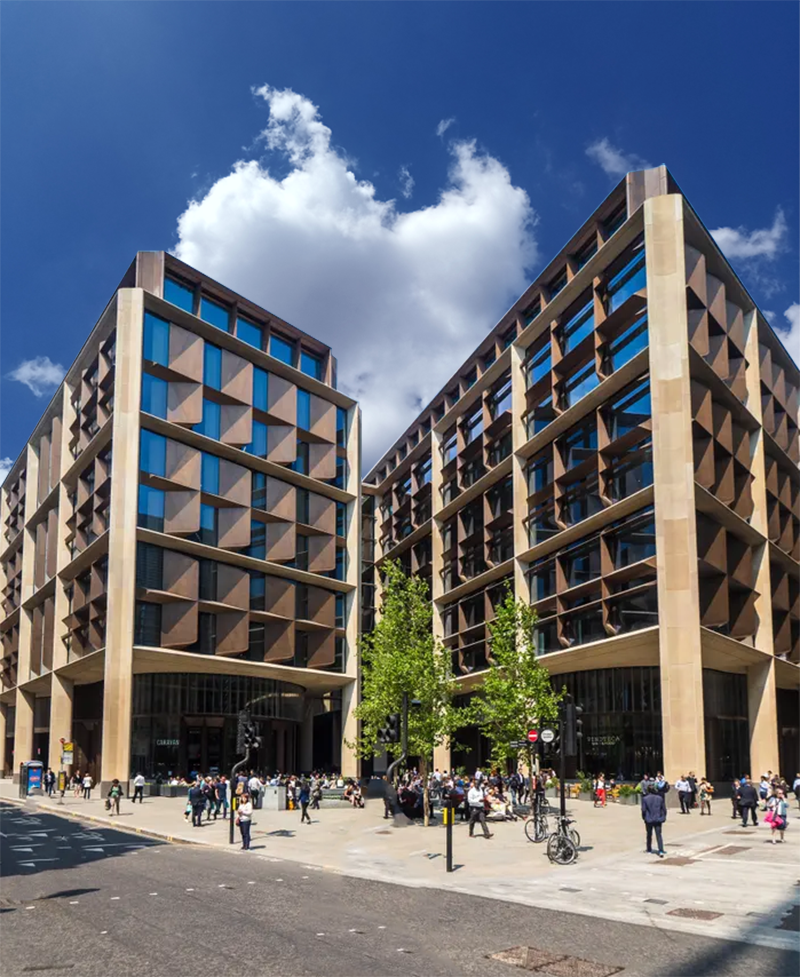 The Bloomberg corporate headquarters is located in New York, New York, United States. The European headquarters of the company is located in London, United Kingdom.
Bloomberg Headquarters Address: 731 Lexington Avenue, New York, New York, United States.
Is there a Bloomberg office in Canada?
Yes, there are Bloomberg corporate offices in Canada. The main Canadian branch is located in Vancouver, British Columbia, Canada. However, they also have offices in Toronto, Ontario, and Montreal, Quebec.
How do I contact Bloomberg for help?
You can contact Bloomberg for help by sending an email to the email address given below.
Email Address: [email protected]
How do I submit a piece of news to Bloomberg?
News can be submitted on Bloomberg by sending them an email on a relevant email address. A list of email addresses is given below. You can send your news to them.
Company History
Salomon Brothers, Inc., which was an American investment bank, was acquired in 1981. Michael Bloomberg owned a part of Salomon Brothers, and in this agreement, he received around $10 million. Bloomberg had experience in designing financial systems, so he invested his share of $10 million in starting Innovative Market Systems.
The first IMS developed by Bloomberg was used for multiple purposes, including the representation of live market data and other financial statistics. The program was named Market Master Terminal, but later it was renamed to Bloomberg Terminal. It was officially released in the market in 1982. At that time, it was a great tool for investment firms and small-scale investors.
The investment management division of BOA, Merill Lynch, was the first customer of Bloomberg Terminal. They purchased 20 terminals. In addition, Merill Lynch also purchased 30% of the company by investing around $30 million in it. A restriction was applied on Bloomberg that they will not let the competitors of Merill Lynch use the terminal for the next five years. Bloomberg renamed the company to Bloomberg Limited Partnership in 1986.
Bloomberg News which became a very popular business newspaper was launched in 1990 by Bloomberg L. P. in partnership with Mathew Winkler, who was the chief editor of the paper. In 1983, the official website of Bloomberg L. P. was launched, which offered a couple of useful features like tools for currency conversion, market data, news, and forecasts, etcetera.
The 10% out of 30% which was bought by Merill Lynch was rebought by Bloomberg with the price of around $200 million in 1996. The company was valued at $2 billion. Later during the financial crisis of 2008, Merill Lynch agreed to sell the remaining 20% of Bloomberg's stake for a rumored price of $4.3 billion. This deal valued the company at $22.5 billion. Also, Bloomberg corporate became a privately held company. Today, a large percentage of the company is owned by its CEO and Co-founder, Michael Bloomberg.
In 2001, Bloomberg resigned from the designation of CEO to continue his term as the Mayor of New York. Lex Fenwick became the CEO of the company. Peter Grauer became the president of Bloomberg in 2012. Also, he has been the chairman of Bloomberg since 2001. Since 31st December 2014, Michael Bloomberg is again serving as the CEO of the company.
Bloomberg Profile
Bloomberg L. P. is a financial software, technology, and media company founded and based in the United States. The company was founded to help investors and stockholders to evaluate the financial markets easily and conveniently with the use of modern technology.
Currently, Bloomberg offers such software and tools by using which anyone can get analytics and premium data services of the company. Besides the financial tools, Bloomberg L. P. also works in the news industry.
Bloomberg financial news is considered one of the most credible and authentic new sources. In a nutshell, the company provides meaningful information regarding financial markets to help investors make thrifty decisions.
Bloomberg L. P. CEO and Key Executive Team
| | |
| --- | --- |
| Names | Designations |
| Michael Bloomberg | Founder and CEO |
| Shawn Edwards | Chief Technology Officer |
| Elizabeth Mazzeo | Chief Operating Officer |
| Peter Grauer | Chairman |
| Thomas Secunda | Co-founder and Vice-Chairman |
Top 5 biggest Bloomberg L.P competitors or Alternative
1. FactSet
FactSet is an American software company. It was founded in 1978 by Howard Wille and Charles Snyder. The headquarters of the company is located in Norwalk, Connecticut, United States. FactSet has its physical presence in over 22 countries, and they have more than 48 locations around the world.
The company has a total revenue of $1.49 billion as of 2020, and its net income lies at around $372 million. It was ranked 48th on Fortune's 100 Best Companies to Work for.
2. Goldman Sachs
Goldman Sachs is a publicly-traded American investment management and financial services company. It was founded by Marcus Goldman Samuel Sachs in 1869. The company is a part of DJIA, S&P 100, and S&P 500 components.
Last year, the revenue of Goldman Sachs was $44.6 billion, and the net income of the company was $9.5 billion. It is ranked 59th on Fortune 500 list. In 2021, Goldman Sachs is also ranked 26th on Forbes Global 2000.
3. BlackRock
BlackRock is another famous investment management company in the United States. The company was founded in 1988 by Robert S. Kapito, Larry Fink, and Susan Wagner. The famous areas of service of BlackRock are asset and risk management.
The revenue of the company in 2021 is around $22 billion, and the profits are $5 billion. BlackRock secured 192nd position on Fortune 500. In 2021, BlackRock is also ranked at 127th on Forbes Global 2000.
4. JPMorgan Chase
JPMorgan Chase is the largest American financial services company. JPMorgan Chase is a part of the DJIA, S&P 100, and S&P 500 components. Some of the famous financial services of the company include asset, risk, and wealth management, insurance, mortgage, mutual funds, and baking, etcetera.
Its revenue as of 2020 was $119.54 billion, and the net profit was around $29.13 billion. In 2021, it was ranked 19th on Fortune 500.
5. Nasdaq
Nasdaq is a publicly-traded financial services company founded and based in the United States. Some of the popular services of Nasdaq are trading, market data, financial technologies, and derivatives, etcetera.
In 2020, its revenue was $5.627 billion, and the net income was $1.031 billion. In 2021, Nasdaq is ranked at 480th on Fortune 500. It is also ranked at 892nd on Forbes Global 2000 in 2021.
FAQ's
What makes Bloomberg L.P successful?
Bloomberg provides services to a very small segment of an audience, but they satisfy their customers. Focusing on a tiny niche makes it possible for Bloomberg to solve every problem of that niche. This distinguishes Bloomberg from other companies and makes it a successful company.
When did Bloomberg L.P go public?
Bloomberg L. P. has been a privately owned company since it was founded. A large percentage of the company is owned by Michael Bloomberg. The company is still private because Bloomberg does not want to be accountable to the investors.
Does Bloomberg L.P pay dividends?
Bloomberg is not a publicly-traded company. No one can purchase Bloomberg stocks. Hence, no dividend is paid by the company.
Who is the auditor of Bloomberg L.P?
KPMG Audit PLC, which is an international accounting firm, is the auditor of Bloomberg L. P.
Do Bloomberg terminals run over the internet or through their own custom network infrastructure?
Yes, Bloomberg terminals do require access to the internet to be operational. The terminal is in working order anywhere with an internet connection.
How many locations does Bloomberg have?
Bloomberg, as of 2021, works in around 120 countries across the globe, and according to the data of 2019, they have more than 167 offices worldwide.
What is so special about the Bloomberg terminal, and how much does it cost?
The Bloomberg terminal the market data in real-time. You can view all of the live insights on a mobile or personal computer. This distinguishes Bloomberg's terminal. The terminal is offered on a subscription which costs around $2,000 per month and $24,000 per annum.
Does Warren Buffett use a Bloomberg Terminal?
No, Warren Buffett does not use Bloomberg Terminal because Buffett does not rely on technology and makes his investment without dependence on software.
Which is a better news source, Reuters, Financial Times, and Bloomberg?
According to aelieve.com, Bloomberg financial news is ranked at 4th best news website has more than 37.8 million unique visitors, whereas Financial Times is ranked at 14th with 9.8 million unique visitors.
Reuters was not ranked in the list. So, Bloomberg is comparatively a better news source.