Adobe Inc. is one of the leading computer software companies across the globe, with different document management, marketing, and creative products. Today, it offers more solutions that cater to different market segments. Some of these include the Commerce Cloud, Marketo Engage, and Workfront.
With many of these solutions being used by offices, companies, professionals, and individuals around the world, some might be curious about Adobe Inc's corporate details. Here are some of the most important information about the company including headquarters location, executives, and contact details.
General Information
| | |
| --- | --- |
| Headquarters: | Adobe World Headquarters, San Jose, California, U.S |
| Zip code: | 95110 |
| Traded as: | Nasdaq: ADBE |
| Industry: | Software |
| Founded: | December 1982; Mountain View, California, U.S. |
| Website: | adobe.com |
| Business data: | Google Finance / SEC filings |
Where is Adobe Inc. Headquarters Located?
The Adobe headquarters is an impressive structure composed of three high-rise towers. It is located at 345 Park Avenue, San Jose, California 95110-2704. The office towers, namely the West Tower, East Tower, and Almaden Tower were completed in 1996, 1998, and 2003, respectively.
Each of the towers occupies a huge lot, with the 18-floor West Tower having the biggest space with 391,000 square feet, followed by the 16-floor East Tower with 325,000 square feet. The smallest of the three is Almaden Tower (17 floors) with 273,000 square feet.
In total, the Adobe World Headquarters covers around one million square feet of ground including office spaces and parking facilities. Its parking area is composed of five floors.
The World Headquarters was designed by the firm Hellmuth, Obata, and Kassabaum (HOK), with architects George Francis Hellmuth, George Edward Kassabaum, and Gyo Frederick Obata, in collaboration with Webcor Builders, Inc.
The three-tower headquarters was always meant to be eco-friendly because it is not only right for the environment, but also the business. However, more efforts toward environmental friendliness were done in 2001 during the California energy crisis when the company pushed toward energy conservation.
The company reached this goal as it received various certifications with the help of facilities management company Cushman & Wakefield.
Some of its achievements include the U.S. Environmental Protection Agency's ENERGY STAR label, the U.S. Green Building Council's (USGBC) Leadership in Energy and Environmental Design (LEED) certification, and the USBGC's Leadership in Energy and Environmental Design – Existing Building (LEED-EB) Platinum certification.
Aside from the Adobe corporate office in San Jose, California, the company also has a total of 67 locations across the globe with more than 10,001 employees. Interested individuals can get in touch with the headquarters through telephone at 408-536-6000 or through fax at +1-408-537-6000.
Office hours for Adobe align with the standard hours as mandated by the state of California. However, keep in mind that this can vary depending on the company.
How Adobe's Modern Headquarters in San Jose Looks Like
The company implements modern, eco-friendly operations in its World Headquarters in San Jose, California. It combined technology and principle to create a green building that encourages conservation, productivity, and creativity.
Inside, the buildings are designed to inspire innovation and imagination. It takes on two architectural motifs namely the California Coastal and the Santa Cruz Mountains.
This is why the interiors of the offices bear blue, green, and brown colors. Visitors will find various graphic designs on walls and artwork installations within the premises that are consistent with the abovementioned themes.
The company enlisted the help of artists Hannah Sitzer and Erik Otto to paint different depictions of the themes on each floor of the high-rise offices. One remarkable work by Otto is the Santa Cruz Mountains mural, which features the California coasts at the backdrop of the mountains. It uses mixed materials to capture the essence of the two geographical features, creating a dynamic design that reflects the principles of the company.
On the other hand, Sitzer created multiple pieces in different mediums which, when combined, create an inspiring masterpiece. It features the iconic Santa Cruz sunset teeming with warm colors over cool hues, thanks to the coast. It is aptly titled Homage to Santa Cruz, which aims to capture the artist's memory of the place.
The choice of these themes is not random. This means to convey the fact that while Adobe is a worldwide brand with locations around the globe, it remains to be relevant in its local context, pertaining to the California geographical features and iconic sceneries.
In a way this creates an inspiring environment where arts and sciences can meet. In the same vein, the offices also provide space where creatives, engineers, and other staff members can meet with the help of interactive spaces.
The offices are full of places that foster a collaborative culture, from open-plan workplaces, breakout areas, collaboration rooms, lounges, and cafeterias. Even spaces like corridors and elevator areas are filled with artistically designed interiors, with the help of the design team, as well as Otto and Sitzer. The result is an innovative and lively company culture, which the headquarters location and design contribute to.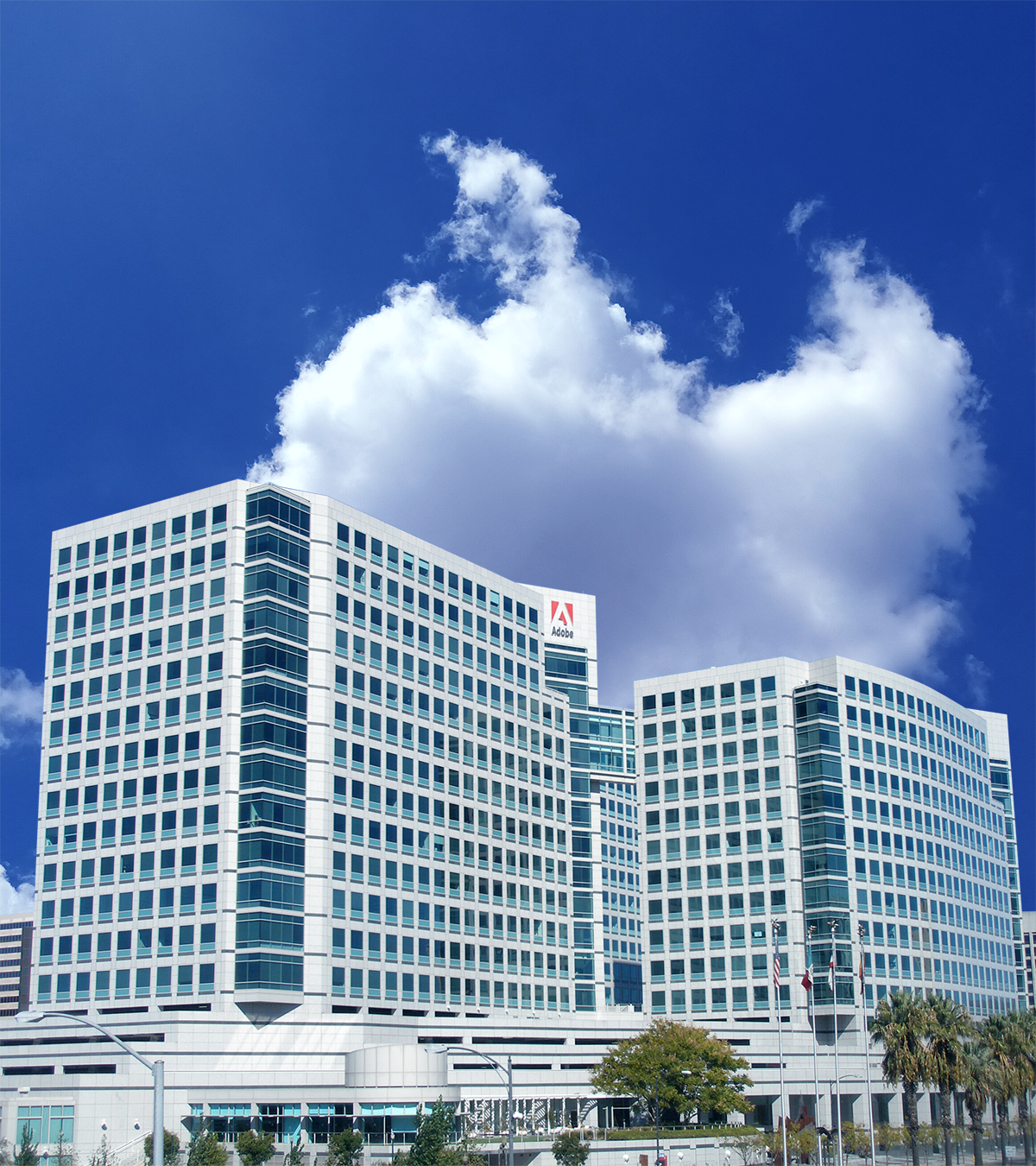 How Do I Contact Adobe Inc?
Individuals who want to get in touch with Adobe Inc. would be pleased to know that there are different ways to reach the company. Here are some of the most common communication options.
Mail – 345 Park Avenue, San Jose, California 95110-2704
Phone – +1-408-536-6000
Email Online Chat – The Adobe Virtual Assistant is accessible via the official website at www.adobe.com/.
Social Media – Reach the company on Facebook, Twitter, LinkedIn, and Instagram.
Who is the Adobe President?
The Adobe president is Shantanu Narayen. He became president as well as a chief operating officer back in 2005. Before this, Narayen first joined Adobe in 1998 as vice president and general manager of the engineering technology arm.
Adobe CEO and key executive team
Names
Designations
Shantau Narayen
Chairman and Chief Executive Officer
Scott Belsky
Chief Product Officer and Executive Vice President
Anil Chakravarthy
President, Digital Experience Business
Gloria Chen
Chief People Officer and Executive Vice President
Dan Durn
Chief Financial Officer and Executive Vice President
Source: adobe.com, adobe.com
FAQ's
How many Adobe locations are there?
There are a total of 67 Adobe offices around the world. They are located in regions such as North America, Asia, Australia, and New Zealand, Europe, Middle East, Africa, and South America.
Where is Adobe's corporate office in Canada?
As of writing, there are two Adobe corporate offices in Canada, both of which are located in Ontario. One is located at 343 Preston Street, Ottawa, Ontario K1S 1N4. The other location can be found at 225 King Street W, 14th Floor, Toronto, Ontario M5V 3M2.
Where is Adobe Corporate office in the UK?
There are two Adobe corporate offices in the United Kingdom. One of these is located at the Market House, Maidenhead, SL6 8AD. Meanwhile, the second location can be found at White Collar Factory, 1 Old Street Yard, London, EC1Y 8AF.
Where is Adobe based in Europe?
Adobe has offices in 17 countries around Europe. These include Belgium, Denmark, France, Germany, Austria, Switzerland, Ireland, Italy, the Republic of Moldova, the Netherlands, Poland, Romania, Spain, Sweden, Scotland, and the United Kingdom.
Executive Summary
The Adobe headquarters is one of the biggest and most unique ones in the country. With its sprawling location covering one million square feet of land, and its adventurous designs that inspire creativity and innovation, the World Headquarters is worthy of being called the home of this global software company.