Accor S.A. is a French hospitality company that manages resorts and hotels. It is the sixth-largest hospitality company in the world and the largest in Europe. The company has its official headquartered in Paris, France, and has about 5199 locations in more than 100 countries. Accor has a large brand portfolio and owns several large hotels and resort brands ranging in quality from luxury and premium to midscale and economy hospitality services.
Accor provides travel and tour-related services, food delivery services, and casinos services in addition to its hospitality services business model. Accor also expanded towards restaurants, dining, onboard rail services, and car rental services to expand its services portfolio. Over the years, the company managed to expand in its locations, services, and brands and became one of the largest hospitality companies.
Currently, Accor is a public company and is listed on Euronext and London stock exchange by ticker symbol A.C. Currently, Accor stock is not at its highest as the company's hotels, resorts, and restaurants-related business model was very badly affected by the Covid-19 pandemic.
Accor S.A. on Map

---
General Information
HQ:
Tour Sequana, Issy-les-Moulineaux, France
Traded:
Euronext Paris: AC and LSE: 0H59
ISIN
FR0000120404
Industry:
Hospitality
Area served:
Worldwide
Founded:
1967 Paris, France
Brands:
Luxury: Raffles, Orient Express, Faena, Banyan Tree Hotels and Resorts, Delano, Sofitel Legend, Fairmont, SLS, SO/, Sofitel, The House of Originals, Rixos, onefinestay
Premium: Mantis, MGallery, Art Series, Mondrian, Pullman, Swissôtel, Angsana, 25 Hours, Hyde, Mövenpick, Grand Mercure, Peppers, The Sebel, Adagio premium
Midscale: Mantra, Novotel, Mercure, Adagio, Mama, Shelter, Tribe
Economy: Breakfree, ibis, ibis Styles, ibis Budget, Jo&Joe, hotelF1, greet, Adagio access
Website:
group.accor.com
Where is Accor S.A. headquarters located?
S.A. headquarters are located in Tour Sequana, Issy-les-Moulineaux, which is a commute in the southwestern region of Paris, France. Accor has its main office at the location of its headquarters in the city of Paris in France and has not disclosed any information about any other offices in any part of the world.
How do I contact Accor S.A. corporate?
Accor S.A. offers multiple ways to connect with them. One of the ways can be to call on the company's phone number. Different phone numbers of the company are listed as:
U.S.: (844) 382-2267
France: +3 382 588 0000
Germany: +49 699 530 7595
Italy: +3 919 912 9999
Some additional mobile phone numbers include:
0800-221-4542 or 0871-663-0624
Lastly, the company allows any kind of contact through its official website at the link.
Also, the company can be contacted through the chat support system available on their website.
It is to be noted that Accor does not offer any email support but can be contacted through their social media handles on Instagram, Twitter, or any other platform.
Also, the company can be contacted by their physical address at Head Office address at:
Address: 10 Hammersmith Grove, London, W6 7AP
Does Accor S.A. have chat support?
Yes, Accor S.A. offers chat support services. AccorPlus has chat support on its official site, where customers can discuss any query related to the company. The link to the page for chat support is given here.
The History Of Accor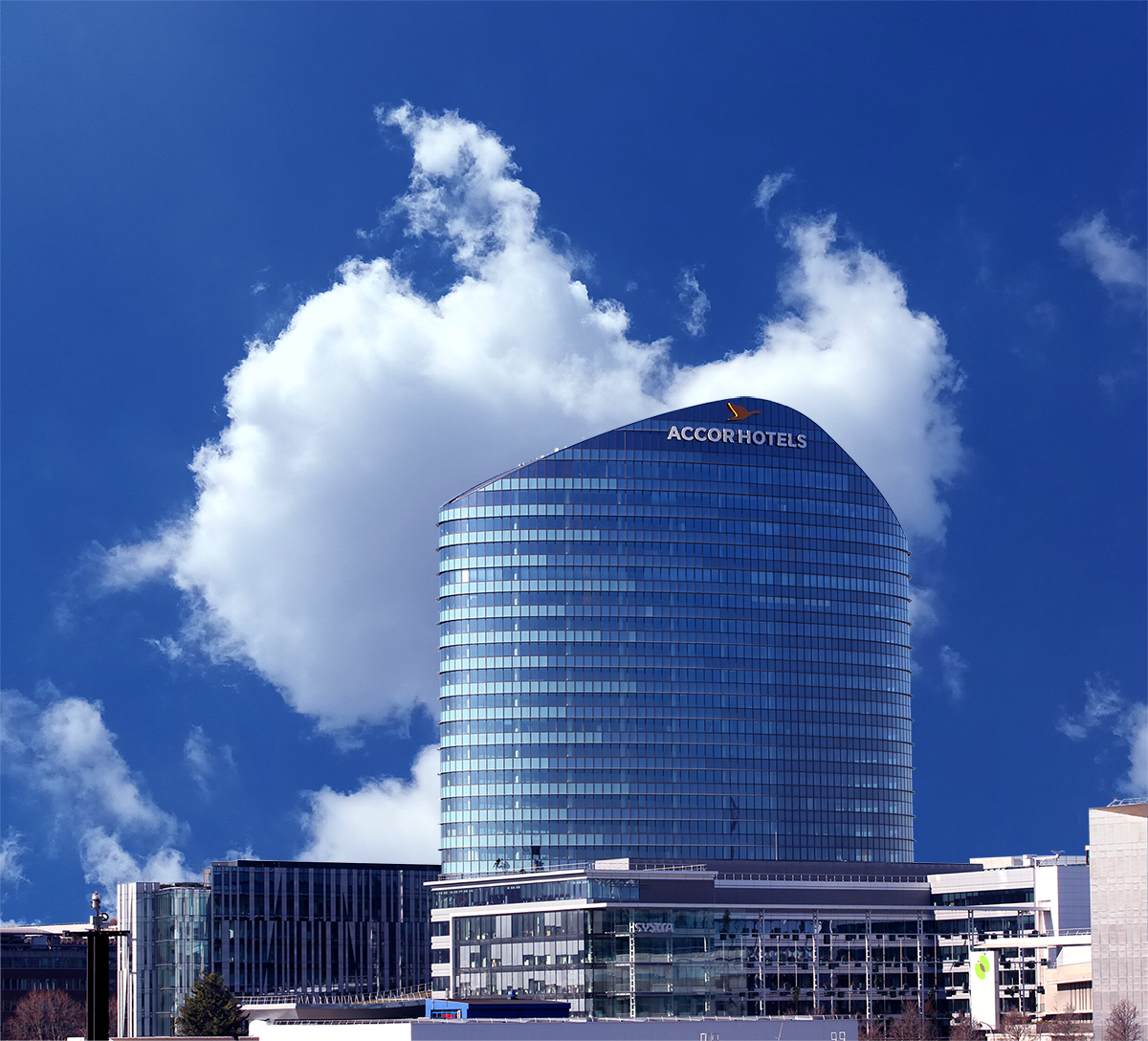 From Novotel to Accor
Accor was originally known as the SIEH group and started in 1967 by operating a midscale hotel in the Northern part of France known as Novotel. The company later added another brand to its portfolio when it launched an ibis hotel in Bordeaux, another city of France, in 1974. The company entered the Asian market through Singapore in 1981.
1983: Birth of Accor
The Novotel-Sieh group merged with Jacques Borel International, and the Accor group was formed. The name Accor means "accord" or "agreement" and reflected the merger that resulted in the formation of the company. In the coming years, the company acquired several other brands under its portfolio ad itself got merged with some, which resulted in the expansion of the company's business.
Asset-light realignment
In the 1990s, the company realized that the assets it had purchased for its business operations, e.g., the hotels, resorts, and others, were not reflecting capital appraisal in the stock of the company. Accor decided to shift towards an asset-light business model, which essentially meant that the company would try to keep fewer assets and the funds thus released would be used to expand the business.
The company shifted towards premium servicing and focused more on brand image rather than the properties management that it previously used to do. It also acquired casinos under its business model for the first time. In this time, the company experienced immense growth as it got listed on major stock exchanges of the world and managed to expand its products and services offering all over the world.
New multi-brand strategy
Accor continued to innovatively expand its business in other sectors of the market. It divided its business into two main divisions; one overlooking hospitality services and the other one about managing assets such as hotels and others as investments. Also, the company further strengthened its brand image as a premium hospitality service provider.
Brand portfolio expansion
Currently, the company can be said to be in an aggressive growth phase as it is trying to acquire other brands to expand and diversify its business activities. This included adding new services to its brand portfolio, such as online tour managing services and expanding towards other countries to be as global as possible.
During Coronavirus pandemic
The company's ambitious plans to expand its business were haltered by the coronavirus pandemic in the 2020s, which was also reflected in the stock of the company. But it is a common sight considering current conditions as hospitality companies all over the world are quite affected by the pandemic. It is expected that the company will revert back to its growth plan as soon as the world economy recovers.
What are the Accor values?
Accor aims to provide a unique and unraveled hospitality experience to its customers through its product and services offerings. Accor claims that it goes out of its way to provide the best services to its customers. To Accor, their one and only objective is to maximize the of their customers through the value provided by their services. Accor has always tried to position itself as a company that cares for its customers like family and creates a unique experience for them to improve their lifestyle rather than just being another hospitality service providing company.
Accor SA CEO and Key Executive Team
Names
Designations
Sebastian Bazin
Chairman & CEO
Jean-Jacques Morin
Deputy CEO & CFO
Maud Bailly
CEO, Southern Europe
Arantxa Balson
CEO, South America
Steven Daines
Chief Talent & Culture Officer
Source: group.accor.com, group.accor.com
Top Accor innovations transforming hospitality:
Accor is known for bringing some major innovations to the hospitality industry worldwide. Some of these innovations are:
Smart rooms that use technology to make things easier and more exciting for the customers, for example, tablet screen that can adjust the level of light in the room. Another example could be controlling the environment by the dialogue of the customer; for example, if the customer says to the voice assistant that he needs to relax, the room lights would dim, and soft music will start playing.
Accor provides mobile room services in some areas where the other type of hospitality service may not be feasible or as exciting as this one, for example, at Ski resorts. These mobile homes contain every item of amenity for their use while being compact and aesthetically beautiful, which is a fairly unique concept in hospitality services.
Some brands under Accor hospitality offer sleep services which refer to providing such an environment and material to the customer that aid in enjoying a deep and relaxing which otherwise may be unattainable for some customers.
These are just some of the creative strategies that Accor uses to position its product and services differently in the mind of consumers and build great brand loyalty among them.
Top 5 biggest Accor SA competitors or Alternative
1. Hilton
Hilton is an American hospitality services company headquartered in Virginia, USA. The company has more than 6000 properties in its portfolio and is one of the largest companies worldwide in the sector. It has a portfolio of about 18 brands targeting different target markets.
Hilton is a public company; it is listed on the New York Stock exchange with the ticker symbol HLT. It can be considered a significant competitor to Accor S.A.
2. Hyatt
Hyatt Hotels Corporation is an American corporation that provides hospitality services. It is headquartered in Chicago and has more than 1100 countries in about 70 countries of the world. Hyatt mainly operates through its own brand name but has some other brand names in its brand portfolio.
Hyatt is also a public company at NYSE with a ticker symbol H. Hyatt is a smaller company than Accor and is less dangerous than other competitors.
3. Marriott International
Marriott International is an American company headquarters that manages hotels, resorts, and other hospitality-related services. It has its headquarters in Bethesda, Maryland. The company has about 30 brands and more than 7500 properties under its management. It is the second-largest hospitality company in the world and is a strong competitor to Accor.
Marriott is listed on the NASDAQ stock exchange with the ticker symbol MAR.
4. IHG Hotels & Resorts
IHG aka InterContinental Hotels Group plc is a British hospitality company that is headquartered in Denham, Buckinghamshire, England. The company has more than 5000 hotels under its management and is one of the largest in the hospitality sector around the world.
It is listed on LSE (London Stock Exchange) with the ticker symbol IHG, and its stock is currently trading at GBX 5052.
5. Expedia Group
Expedia Group is an American online tour service providing company headquartered in Seattle, Washington. The company has multiple websites under its management that aid its customers in their travel booking and experience. Expedia Group is listed on the NASDAQ stock exchange by the ticker symbol EXPE.
FAQ's
When did Accor S.A. go public?
The exact date of the initial public offering of Accor S.A. is not clearly known, but it can be seen that the company's stock has been listed on Euronext Paris (EPA) with the ticker symbol A.C. since the January of 1989. Accor stock is currently trading at EUR 33.74 on this stock exchange. Accor S.A. does not pay any dividend on its stock.
Is Mantra Accor?
Yes, Mantra is currently a subsidy of Accor. It was recently purchased by Accor for $1.2 billion to expand its hospitality business in the Asian market.
How much is Accor Plus membership?
Accor Plus membership allows getting some extra services from the company such as complimentary nights, discounts on dining and hotel reservation, and other benefits. The membership comes in two different packages, with the explorer-type membership costing $399 and the discovery-type membership coming at about $495.
How do I book my Accor Plus free night?
Accor plus membership allows its holders to gain a free night which in the normal case can cost about $400. A consumer can book this one free night in advance on their online site and may even cancel in case of any change in plans.
The free night can be booked at their official site.. It redirects to a simple page where you select your destination and time and get the booking. Another way can be to directly call Accor for this free one-night hotel service.
A point to be noted is that Accor plus a free night is subject to availability by location and time, so it is always the best idea to book your Accor free night way before you actually want to avail of the service.
What is the difference between Accor Live Limitless and Accor Plus?
Accor Live Limitless can be simply considered an upgraded version of Accor Plus. When you buy the membership of Accor Plus, you are given an option to upgrade your membership to Accor live Limitless, which has extra service associated with it. Accor lives limitlessly can be used at any of the Accor locations around the world. They provide you free welcome drinks and allow you to check out late than the time specified without any hefty fee to be paid for it.
How much is the Accor Plus free night worth?
Accor Plus free night is quite expensive and is sully though to be about $400 or can be even more.
How can I book my stay online with my points?
A customer can make an online booking with their reward points if the hotel is a member of the ALL loyalty program. Some hotels, such as independent partner hotels, do not allow the usage of reward points to book hotels online.
There is a condition for online booking by Accor that the total amount of booking should be at least as much as your reward points for your booking to be successful. If you keep these two points in mind, you can easily book your stay online with your reward points.
Executive Summary
Accor is a French hospitality company that operates hotels, resorts, restaurants, and other services in more than 110 countries of the world. The company currently has more than 5000 locations under its portfolio and has several large brand names operating under it.
Accor is known for its innovative approach when it comes to its products and services and its marketing towards its target audience. This strategy has allowed Accor to position itself as one of the leaders in hospitality companies.
Accor is a public company and is listed on Euronext Paris with the ticker symbol A.C. Currently; the company is trying its best to expand its business to include other sectors such as restaurants, online tour management services, and other services in its portfolio to continue maintaining its brand image and customer loyalty.